March 25th, 2013 by
Benj Edwards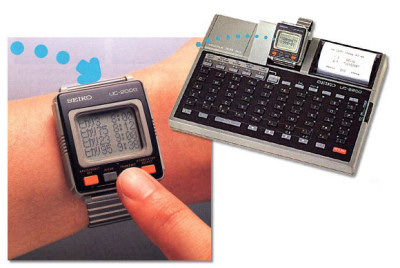 While researching my slideshow on smartwatch history for TechHive last month, I came across an interesting 1989 letter to Computerworld magazine. It was a response to an earlier article in the publication about the inevitability of a wearable watch-sized microcomputer.
I find the letter prescient because its author imagines the consequences of walking around with a full-blown networked computer on your wrist. And he was right about his predictions in every regard except one: instead of computers on our wrists, we're walking around with computers in our pockets. In other words, smartphones.
But that's the nature of predicting the future. You can often get the general trends correct without knowing the details. Nobody in 1989 had any idea that the cell phone, instead of the watch, would first become the vehicle through which we'd wear tiny networked computers on our persons almost every hour of the day.
[ Continue reading Predicting the Smartphone in 1989 — as the Smartwatch » ]
Tags: smartwatch, Computerworld, TechHive, 1989, predictions, Google Glass, iPhone, smartphone, cell phone, watch, future, Chetan Sankar