February 6th, 2013 by
Benj Edwards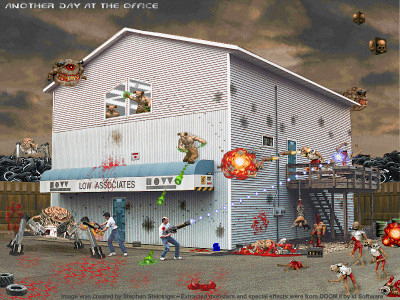 Click to see other views of this image: [ Original Size ] [ 2X Zoom ]
This particular image, titled "Another Day at the Office," is one of the gems of my personal GIF collection. I believe I downloaded it from CompuServe, and I likely downloaded it on the file date, June 16, 1996.
The image itself is a computer-crafted ode to Doom II that merges a real digitized photograph with imagery ripped straight from id Software's famous first-person shooter.
Such a passion for Doom II in the workplace isn't foreign to me. In an office where I worked in the mid-late 1990s, certain engineers were known to play late night four-player Doom deathmatches over the company LAN.
[ Continue reading [ Retro GIF of the Week ] Doom II at the Office » ]
Tags: Retro GIF, GIF, art, CompuServe, Doom, Doom II, id Software, 1996, art