December 25th, 2012 by
Benj Edwards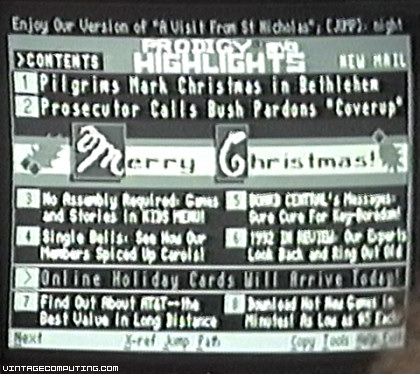 An angle-corrected close-up view of Prodigy's front page on Christmas 1992.
Twenty years ago today, I awoke with anticipation and ran downstairs. It was Christmas morning, and I could hardly wait to open my presents.
One of those presents turned out to be a connection kit to Prodigy online service, which I had been begging my father to buy for most of the year. 1992 was the year I jumped head-first into computer telecommunications by calling local BBSes. I became fascinated with modems and wanted to explore their every possible application.
That Christmas morning, my dad was on hand to document my first experiences with Prodigy using the family Sony Camcorder. I have captured various stills from that video, and I am posting them here to share a small slice of the Prodigy experience in 1992.
Unfortunately, my computer at the time, the IBM PS/2 Model 25 (which my dad purchased new circa 1987 and later became a hand-me-down to me), came equipped with a monochrome monitor. So the glory of Prodigy Christmas 1992 in color is sadly now lost to history (well, unless someone else out there can find some color screenshots of Prodigy on Christmas 1992).
Tags: Christmas, Prodigy, online service, modem, IBM PS/2, memories, IBM, Zoom, BBS, MadMaze