August 3rd, 2015 by
Benj Edwards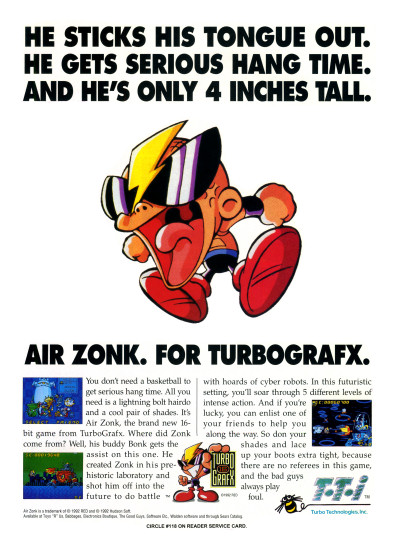 The 4-inch Michael Jordan
I remember seeing a playable demo of Air Zonk in my local Toys 'R' Us around the time it came out (probably early 1993). I remember it being marketed as a pack-in for the TurboDuo. Upon playing the demo, my first thought was along the lines of: "Wow, the TurboGrafx-16 is still around? They must be desperate."
(For those of you who don't know, my brother and I took the TG-16 plunge circa 1990 or 1991.)
By 1993, the SNES and Genesis were in full force — I owned a SNES and enjoyed it quite a bit. I was deep into Street Fighter II fever at that point. I drooled over the TurboDuo when it came out, though, and I always had a soft spot for the TG-16.
My second about Air Zonk was, "Hmm, this game isn't very good." So I released the controller and didn't play it again until perhaps 20 years later on an emulator. I still don't like it very much.
[ From VG&CE, November 1992, p.46]
Discussion Topic of the Week: Which do you like better: Air Zonk or Bonk's Adventure?
Tags: Retro Scan, TTI, NEC, Hudson Soft, TurboDuo, Bonk, Air Zonk, TurboGrafx-16, advertisement, VGCE, advertisement, 1992