January 11th, 2013 by
Benj Edwards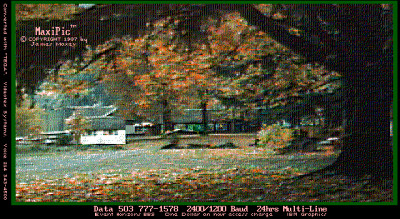 Click to see other views of this image: [ Original Size ] [ 2X Zoom ]
From 1983 to 1996, James "Jim" Maxey operated a very successful Oregon-based BBS called Event Horizons. Through that board's file section, Maxey made available thousands of GIF images in many categories, from landscapes to pornography, that he had created using a video digitizer board and conversion software called T-EGA.
Bob Talmadge wrote an excellent profile of Jim Maxey's BBS years for his site BBSDays.com. I recommend reading it if you're interested in learning more about Maxey's BBS. Also, Jack Rickard of BoardWatch magazine mentioned Maxey's early 1990s image-related BBS activities in an article he wrote for Wired issue 1.04 in 1993.
The early and pioneering nature of Maxey's color graphics files for IBM PC computers ensured that his digital pictures, which he called "MaxiPics," spread far and wide to other BBSes at the time. This is one such picture, and it depicts a house and yard in autumn. The 640 x 350 EGA format file dates from 1987 and was likely captured from a video source — more on that in a moment.
[ Continue reading [ Retro GIF of the Week ] Digitized Autumn Leaves » ]
Tags: Retro GIF, scanners, video capture, video digitizers, Jim Maxey, Event Horizons BBS, BBS, GIF, IBM PC, EGA, T-EGA, Videotex, NAPLPS, Videotex Systems, Bob Gillman