July 12th, 2006 by
Benj Edwards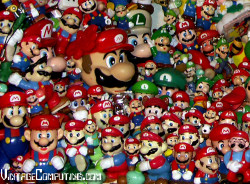 It's official: Brett Martin has a metric buttload of video game memorabilia. By Mr. Martin's own estimation, his collection clocks in at about ten to fifteen thousand individual pieces. But not all of those trinkets of molded plastic, cast metal, and fluffed polyester are depictions of Nintendo's famous Italian plumber. His gaming nicknack collection actually spans a diverse range of characters from different franchises, companies, and eras.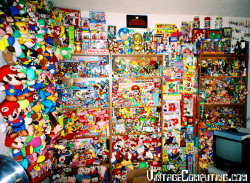 Martin is married to a loving wife that is tolerant of his collection. But in the process of settling down and moving on to a new phase of his life, he recently realized that some things have to go. So Brett set up a new website to help him thin out his massive collection, while also sharing it with the world. The site, called the "Video Game Memorabilia Museum," is a virtual museum of Martin's pieces, which he is always updating with new photos and entries when he gets the chance.

The main gallery area of the VGMM site is divided into sections dedicated to specific video game franchises like Zelda, Sonic the Hedgehog, Kirby, Mega Man, and Crash Bandicoot. Each main franchise section has sub-categories based on characters from within the franchise. Within those are further sub-categories based on the type of item (keychains, plushies, figures, and pins usually among them). Further probing reveals individual items from his collection, complete with pictures. He also has a section with a number of items for sale, as well as a community forum. It's a lot of fun looking through all the stuff he has up there — I definitely recommend taking a stroll through the museum at least once yourself.
Brett recently sent me a new batch of photos his collection, which are splashed throughout this article, and agreed to an email interview, which is reproduced below.
An Email Interview with Brett Martin
VC&G
:
How old are you and where do you live?
Brett Martin: I'm 26. I live in Colorado.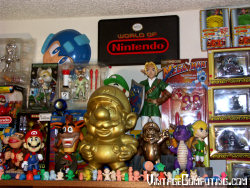 VC&G: What do you do for a living?
BM: Hopefully my video game testing position will begin soon (it got delayed).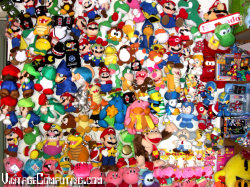 VC&G: About how many items do you think you have in your collection?
BM: Wow. Tough question! There's over 150 items on the plush wall alone! I'd say I'm about 10,000 to 15,000 individual pieces, but it could be much more.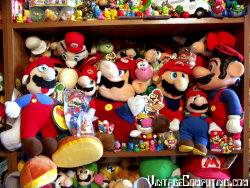 VC&G: How long have you been collecting video game memorabilia?
BM: Since I started playing video games, and that was back in the Atari 2600 days! I started buying all of the Mario merchandise I saw in stores (which wasn't much) as a kid when it was available. Many of my Applause brand Mario items were purchased before I knew I'd be trying to collect them all! I also have many games that I don't have pictures of because games aren't as fun to photograph as the merchandise for me. After all, that was the original collection, as the merchandise always comes after the game. I wouldn't have interest in the characters if I didn't know what they were from, ya know?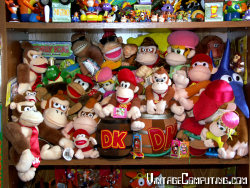 VC&G: What is your favorite collecting focus (i.e. Mario items, Donkey Kong, Nintendo, etc.)?
BM: People may seem to think that I favor Mario, but I have more Mario stuff just because there's more Mario stuff out there to collect! My favorite character is Link from the Zelda series, but there is significantly less out there to purchase. It wasn't always that way, but after playing Legend of Zelda: A Link to the Past I was hooked on Link forever. Then I went backwards and filled in the two original games. Next would probably be Mario, then Mega Man. It shifts a lot though!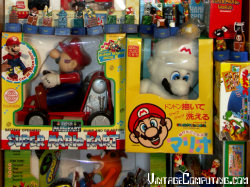 VC&G: What are some of your favorite items in your collection?
BM: My favorite Zelda sets are the two sets of original 1987 unpainted enemy gashapon toys, as they have a figure of every character in the original game! Also in that link is a great set of hand painted Zelda figures. You can find the rest in each section. There is also a similar set of Mario unpainteds from the original Super Mario Bros. that I have. How can a collector pass these up? I even have some doubles for sale on the site (hint hint). My favorite Zelda piece is the Link statue I have, where my favorite Mario piece would be my 4′ statue. I'm big on statues, but also love the intricacy of smaller pieces. I also have to say I love my prototypes that I have of Metal Mario, Starfox's Fox McCloud, Banjo-Kazooie, and the Donkey Kong 64 characters. 1 of 1, can't beat that!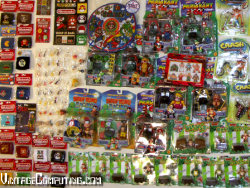 VC&G: When did you first set up videogamemm.com?
BM: From the forums' updates section: "11/13/05 – Site goes online!! Sections Available: Super Mario Items – All pins sections, Zelda Items – All Pins sections."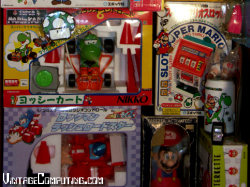 VC&G: Why are you selling some of your items now?
BM: I'd like a down payment on a house and a child. I already know I wouldn't be able to keep a child away from the collection, and as they are very rare I want other collectors to enjoy them. Plus, moving it all is a real pain! This is the first time I have the majority of it in one place and displayed.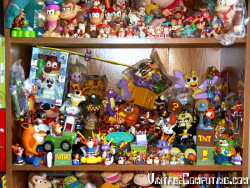 VC&G: Do you have a family, children? What do they think of your collection? Do they ever get annoyed at the volume of it all?
BM: My wife and I have come to agreements about the collection. I've been very blessed to have a wife that "puts up" with this sort of obsession. She's just glad I'm passionate about something, and is thrilled that I want to pursue it. However, it's time to pursue new goals and close this chapter of my life. It's been tough though. I've found just how attached I am to some of this stuff. Remembering the thrill of the hunt for certain items, and learning all of the details about each piece. Hopefully the site will be able to fuel that passion when the majority of it is gone. Still, it's been fun to sell it too, finding out just how rare some of it is. It's very tough to price things because of eBay. As I purchased the majority of the items off of eBay and Rinkya (a Yahoo Japan to USA auction service), there's no telling what some are really worth. At some point I'd like to put together one of those price guides specifically for this merchandise. Still, it's tough because Japanese exclusives are always worth more in the USA and vice-versa. I try to price it for what I would pay for it if I was looking. Just try to find some of the stuff I have for sale anywhere else on the net. Trust me, I've looked. eBay is so fickle you never know what you'll pay. I've paid way too much for stuff and also snagged great deals. Still, it's fun.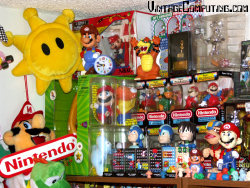 VC&G: Do your friends think you're crazy for having so much video game stuff?
BM: Most think it was inevitable based on my passion for games. I play them, listen to their music, dream them, have a job testing them, collect their merchandise, and want to design them someday. Oh, and I also ate them in the eighties when Mario had ice cream sandwiches and cereal out. I live them. Sure, people will think I'm crazy. I'm fine with that. I know the games are a big part of my life, but I also have room for many other passions. My wife is one, my newfound religion is another, and they will keep coming.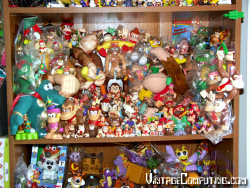 VC&G: Finally, what are some of the strangest or funniest items in your collection?
BM: Well, there's the Super Mario Bros. 45 RPM soundtrack record, the Super Mario Bros. "Shower Power" shower attachment, and the Super Mario World Puzzle Can. Most of the weirdest stuff is Mario-related. Never got the Mario ceiling fan, but that would be a good one for this set. Still, there's some pretty crazy console merchandise, like Famicom pillows, N64 Voice Recorders, DS watertoys, and there has been a digital clock of some sort made for each Nintendo system.