Thursday, December 14th, 2006

[ Hacksterpiece Theatre is a regular column devoted to fun, odd, and interesting retro game hacks. ]
Ever since DahrkDaiz released Mario Adventure over two years ago, fans of the NES hack masterpiece have been ravenously hungry for a sequel. After my coverage of Mario Adventure earlier this year brought the hack back into the public eye, DD and I planned a full-scale release of Mario Adventure 2 on VC&G when it was complete. He sent me a demo version back in March, and as much as I wanted to show it off, I decided to hold off until DD completed the project. Unfortunately, that hold became indefinite as DahrkDaiz abandoned work on Mario Adventure 2 over six months ago and has since moved on to other things. It seemed that the sequel that everyone was waiting for would never see the light of day.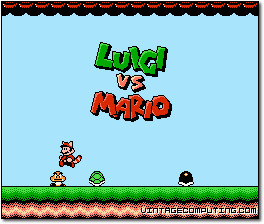 Fast forward to this month: fans of his work have been so persistent in pestering Mr. Daiz about when Mario Adventure 2 would come out that he finally publicly released the incomplete version last week on Acmlm's Board. Now that the cat's out of the bag, I guess it's safe to take a look at DahrkDaiz's masterful, but incomplete sequel to the beloved Mario Adventure.
But wait a minute: Where did all this "Luigi vs. Mario" business come from?
Identity Crisis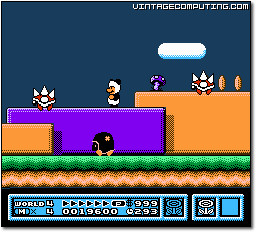 Some of you may be confused by the names I'm throwing around here. The hack featured in this article started out as "Luigi vs. Mario," but at some point DahrkDaiz decided to use it as the basis of Mario Adventure 2 (likely after seeing the incredible explosion of popularity caused by VC&G's article on Mario Adventure). From that point on, the hack had an instant identity crisis, because the main concept of Luigi vs. Mario was to have two complete games in parallel — a quest for Mario, and a separate quest for Luigi. That plot wasn't necessarily appropriate for a sequel to Mario Adventure, so DahrkDaiz began to change various aspects of Luigi vs. Mario to fit its new Mario Adventure 2 title. Luigi vs. Mario is an incredible feat of programming with tons of new features, and ironically, it might have been the incredible depth and ambition of those very features — and the confusion that resulted when he tried to force Luigi vs. Mario into the mold of Mario Adventure 2 — that made DahrkDaiz abandon it earlier this year.
Panda Suit, Anyone?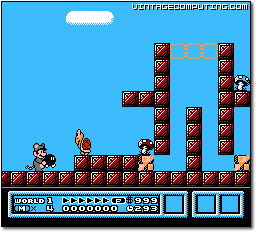 There are so many incredible new features, power-ups, levels, and elements in Luigi vs. Mario that I'm not quite sure where to begin. Personal highlights for me include the new Mouser and Panda suits. With the Mouser suit, you can throw Bob-ombs, ala Mouser in Super Mario Bros. 2, and with the Panda suit, you can walk upside down on the ceiling in some areas! It's really absolutely stunning what DahrkDaiz has managed to cram into this hack. Due to the incredible complexity and depth of this hack's new changes and addition, the game is probably best explained by the author himself. At the bottom of this article, I've reproduced the manual that DahrkDaiz created in HTML for Mario Adventure 2 / Luigi vs. Mario, which he sent me back in March 2006. I've edited it some and cleaned it up a lot, but otherwise the text remains all his. For now, though, you should get the hack and see it for yourself.
[ Continue reading Hacksterpiece Theatre: Luigi vs. Mario (Mario Adventure 2) » ]