February 7th, 2006 by
Benj Edwards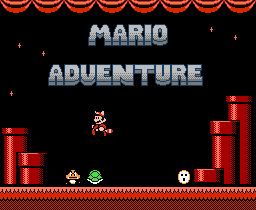 In a way, I think we all thirst for a new 2D side scrolling Mario adventure. It's some sort of basic human need, along with eating, sleeping and reproduction. Why, just last week I was about to keel over for want of Mario when, at the last minute, I found the greatest NES game hack of all time, Mario Adventure. But this isn't your usual game hack, mind you. You'll find no giant buttocks glued onto Mario's forehead, no nude Mushroom Retainers, no Super Tokin' Brothers with Luigi replaced by a white Rastafarian with a cannabis leaf for a hat. Nope, this is a real game — a new game, crafted with care and aplomb using the Super Mario Bros. 3 game engine. Who executed this masterful feat? Look no further than intrepid homebrew coder "DahrkDaiz," who completed the game over the course of sixteen months, sometimes coding on paper during his breaks while working at a fast food restaurant (check out our interview with Mario Adventure's creator here). Now that's what I call dedication. This man deserves serious recognition for the creation of this masterpiece.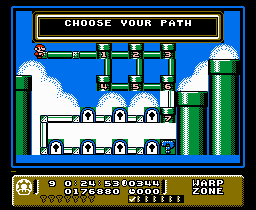 So what makes Mario Adventure so superlative in the world of lackluster and usually pointless hacks? Because, like I mentioned before, it's a completely new game. There are new graphics, new enemies, new enemy behaviors, new power-ups, new items, new rules, and tons of all-new, completely original levels. The game even uses SRAM, a la Zelda, (albeit only emulated at the moment) to save your progress in the game. Here's a quick overview of the most important changes between Super Mario Bros. 3 and Mario Adventure:
1. Completely new worlds and new levels. The level design is stellar as far as hacks go, with clever engineering and interactions between blocks, items, power-ups, and enemies.
2. Modified graphics, especially of the environments, backgrounds, coins, blocks, and some enemies. And they all look professional, like they could be official Nintendo originals. Notably, a few enemies were edited into shy-guys and shy-guy derivatives (who originally appeared in Super Mario Bros. 2). The pipes and the "?" blocks look a lot cooler, with a neat shading effect, and the "P" coin-to-brick block has been replaced with a bubbling potion.
3. At any time, you can switch between your current power up and the last one you collected, which is stored in your "item box" at the bottom of the screen. It's just like Super Mario World's item box, but switching between powers is instantaneous.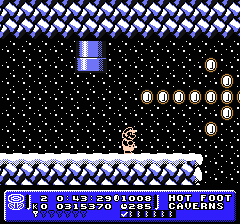 4. New power-ups. The following is quoted directly from the text file version of the manual, included with the hack:
Fire Fire Mario:
Fire Fire Mario is just like Fire Mario, except he throws straight fireballs that can go through walls and he can jump higher!

Invisible Mario:
From the Mario 64 era, Invisible Mario can temporarily go behind any background on a level. Pressing [Down] + [B] activates his power for a limited time. While behind a background, Mario is almost invulnerable to attack. On the plus side, Invisible Mario can stomp many more enemies with this power up!

Magic Mario:
Magic Mario is one tough cookie! He can take a punch three times before he's down! He throws magic stars that are quite powerful and he can stomp a lot of enemies down!

Kuribo's Mario:
Not a new power up, but now Mario can use the shoe in any level and in any situation! Beating a level doesn't steal the shoe away, looks like Mario better grow some bigger feet!
The new "Fire Fire Mario" power up is very common and very attractive. The fact that you can jump higher is nice, and the straight-shooting fireballs make it much more effective as an enemy killing tool. In the original Super Mario Bros. 3 I always stayed as "Raccoon Mario" and rarely used "Fire Mario" at all. In this game, it's mostly the other way around, although the most useful combinations of power-ups to switch between that I've found so far are "Fire Fire Mario" and "Raccoon Mario." There are many occasions where flying and destroying blocks horizontally are useful. As far as the more fancy power-ups go, I still haven't played with them much yet — but they sound cool!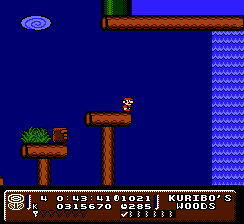 5. The long-lusted after "Kuribo's Mario" listed above is really worth noting. You can get and keep "Kuribo's Shoe" throughout any level of the game. You can even "store" it and "retrieve" (like taking it on and off) it at any time by pressing Up and B simultaneously.
6. Collecting coins no longer provides extra men. Up to 9999 are collected and used to buy chances for items at Toad's mushroom houses. It costs 100 to 300 coins to play.
7. As far as I can tell, you have an unlimited number of extra Marios. But you're going to need them because this game can get really tough. The game design rarely takes cheap shots, so the challenges seem legitimate. The board designer(s) seemed to want to meddle with your pre-conceived, rotely memorized Mario 3 game-play strategies, forcing you to think quickly and stay on your feet instead of just hopping along mindlessly through the levels.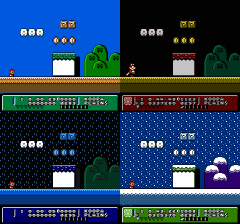 8. When you start on any board, it can be randomly sunny, raining, dark, dusk, or snowing. The graphics (and physics in the case of snow) change to match the environmental conditions. A very impressive and neat graphical touch.
9. At the end of every level you beat a "Boom-Boom" to end it, instead of collecting a card.
10. Your goal in the game is to collect a hidden key from each of seven worlds. Here's an excerpt from the manual:
Each world has 1 hidden key in it. Mario must travel from level to level completing each and keeping an eye for any odd areas that might be a potential door way to a key! If Mario can't find it, he can always go back later on after receiving a clue after defeating the Koopa Kids. There are keys, there are locks on the Warp Zone. Coincidence? I think not!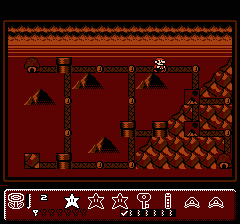 11. New items. I haven't found that many of them myself, so I'll quote the manual again:
Mario has a plethora of new items at his disposal! The Spade and Heart power-ups can give twice the advantage where else the coin power-up can make the Mushroom coin currency rate sky rocket! The Warp whistle used to take you to the Warp Zone, but what does it do now? Just try it and find out for yourself! Every world has something to offer for the Warp Whistle!
One of the items that I think is mentioned here is sort of a "money mushroom." Instead of hidden 1-ups, there are hidden brown mushrooms that give you varying amounts of coins. The ones I've seen so far usually gave me 50 coins in one 'shroom. The warp whistle seems to take you to a special level on each world which contains power-ups and other bonuses.
Let Me Play it Already!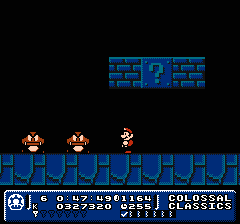 There's even more that's new to Mario Adventure than what I listed above, but it feels like too much to list out. You'll just have to play it and find out yourself. I've saved you the trouble of the IPS patching and all that crud. Just download the complete, playable game here. It's in a zip file because the text manual is included, which I recommend you read through quickly before you play. Oh, and you'll also need an NES emulator. Try FCE Ultra (0.98.12), which is my current personal favorite. If you need a NES controller for your PC, look no further than here. Have fun, and let us know what you think!
Update – 02/11/2006: Special thanks to Derek for finding a cached copy of the original Mario Adventure home page on the Internet Archive.
Update – 02/13/2006: Check out our new interview with Mario Adventure's creator, DahrkDaiz!
Update – 12/14/2006: For coverage of Mario Adventure 2 (and to play it!), click here.