Monday, March 13th, 2006
Mario Adventure FAQ v0.9
Written by Greg Head – Edited & Formatted for HTML by RedWolf
Table of Contents:
Section 1: Introduction & FAQ History
Section 2: What is Mario Adventure?
Section 3: Enemies
Section 4: Items
Section 5: Frequently Asked Questions (Hints & Tips)
Section 6: Level/Map Walkthroughs
Section 7: Key Locations
Section 8: Props
Section 9: Legal Notice
Section 1: Introduction & FAQ History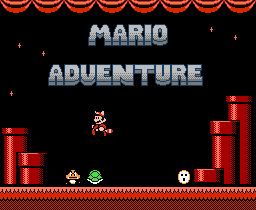 Mario Adventure is a ROM hack of Super Mario Bros 3 that's so good that calling it a ROM hack is almost an insult. Think of it as "The Lost Levels" from Super Mario All-Stars, only based on SMB3 instead of SMB1. This game has totally new maps and levels, items, enemies, and surprises.
Like Lost Levels, Mario Adventure is hard. In fact, you'll have to be able to beat SMB3 proficiently before you can really sink your teeth into this game. It's full of intense and well-thought out levels, some of which will require you to build and refine strategies to complete. Some levels may leave you too frustrated to continue, and that's where this FAQ comes in.
I like to think of this FAQ as a last resort. It's better to do the game without outside help, but a little explanation can go a long way to understanding a level, and really, beating this game without any real cheating is a heck of a job well done. Check out the What is Mario Adventure? section to read all the changes between Mario Adventure and SMB3. The next two sections give details of the enemies and items in this game. The Frequently Asked Questions section contains lots of tips that apply to many situations in the game.
After that is the detailed Level/Map Walkthrough section, which gives tips on individual levels. Right now, only the first two and last two worlds are covered by the walkthrough, but the aforementioned Frequently Asked Questions section has tips that may help you through those levels.
After the walkthrough is the Key Locations section. Only peek at this one if you've given up on finding a key.