About the Editor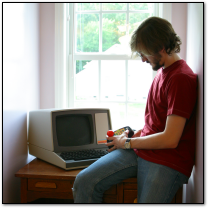 Benj Edwards' diverse interests in science and the arts inspire his written works on the past, present, and future of technology.
As a collector and student of vintage computers and video games for over 20 years, he brings a unique sense of history to publications such as PC World, Wired, Macworld, 1UP, and Ars Technica.
Edwards is also founder and Editor-in-Chief of Vintage Computing and Gaming (VC&G), a regularly updated blog dedicated to classic technology. VC&G's unusual devotion to both computer and video game history has attracted millions of readers since November 2005.
As a songwriter and musician, Edwards previously formed the world's first "dot-com band," Request-A-Song.com, which also doubled as an innovative and artistically challenging website that explored audience interactivity, online music distribution methods, and new music business models, gaining acclaim from Billboard and USA Today.
The alias "RedWolf," which you may see on older VC&G posts, comes from Benj's days as a regular BBS user and Sysop, where selecting entertaining fictitious names was the norm. He's been known by it online ever since.