Monday, October 28th, 2013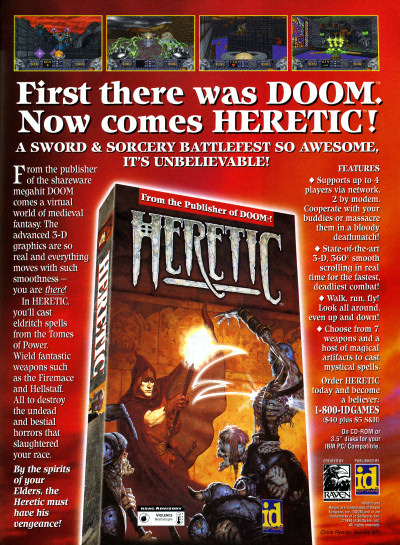 Killing the DEAD has never been so much FUN!
The Gothic fantasy atmosphere of Heretic excited me when id Software first published it as shareware episode in 1994. Either someone uploaded the game to my BBS or I downloaded it from another, but either way, I quickly found myself enveloped in a modem-to-modem online co-op Heretic session with a friend.
Fast forward 18 years later, and I played Heretic again — this time, the entire game (and again, co-op). The first episode is OK, but the level design for the others is incredibly tedious and disappointing. I can see now that it is a very mediocre game. But when first released, following hot on the heels of Doom, people loved it.
[ From Computer Gaming World, September 1995, p.61 ]
Discussion Topic of the Week: What's your favorite Doom engine game?