March 16th, 2009 by
Benj Edwards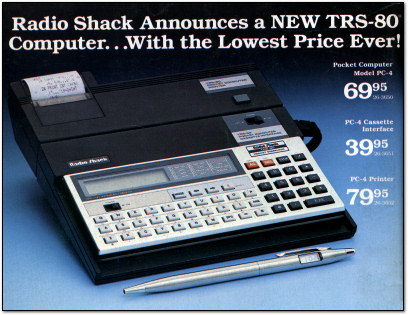 The iPhone has nothing on this. (Click for full advertisement.)
Here we see the state-of-the-art in 1983 pocket computer technology, the TRS-80 PC-4. I have the PC-1 in this series, and it still seems advanced. How many other pocket calculators allow you to program in full BASIC?
I remember taking my PC-1 to high school in the mid-1990s and programming on the sly in my ELP class. It felt so high tech — and my model was made in 1980! Ah, those were the days.
[ From Personal Computing, 1983 ]
Discussion topic of the week: What was the first PDA or pocket computer you ever used?
If you use this image on your site, please support "Retro Scan of the Week" by giving us obvious credit for the original scan and entry. Thanks.