March 8th, 2006 by
Medarch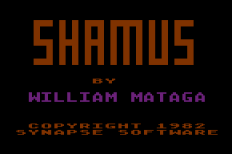 Simple but well-constructed, Shamus is one of my favorite games for the Atari 800. It's an engaging experience…unless you see what I'm about to show you. That's because the real enjoyment and challenge of Shamus as a game is mapping its unpauseable, implausible geometry.
Shamus is a natural extension of Atari's old Berzerk. Touch the wrong thing, and you die: an enemy, a bullet, or a wall. There's even an Evil Otto equivalent, the Shadow, who comes to get you if you're on a screen too long. But a fixed map, keys, and keyholes bring in an adventure element that Berserk doesn't have.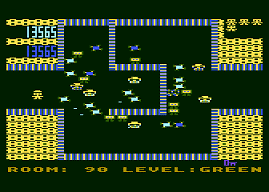 Now I could fill you in on all sorts of game details, but they won't make much difference. Just blast your way through the maze, heading for room 127. The following tips, however, may help you choose your route: 1. the large, difficult rooms are the horizontal connectors (those with left and right exits). All of these, plus the start room, contain an item, while none of the other rooms do. 2. The blinking question mark, called a "Mystery," will give you points and/or an extra life but may also summon the Shadow immediately, so it's best to eliminate all enemies in the room before grabbing it. 3. Some of the keys change position from game to game. Check out my maps (below) to work out the best route through all the places they may be hiding.
Warning: Shamus spoilers ahead!
Now for the spoilers! Look at the maps of the four levels below. Also, check out the reward screen (complete with bad grammar) at the disappointing end of this game.
If you can't play Shamus on a real 800, the Atari800Win PLus emulator will serve you well — just don't be tempted to cheat, not too soon anyway. The cheat options work like crazy to let you pass through bullets, enemies, or walls, if you ever need them. Have fun!