New Tech for Old Computers & Game Systems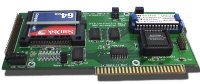 There are really only three groups of vintage computing enthusiasts out there. One is the purist, who wants to maintain, restore, and operate his vintage systems in a historically authentic manner, using only the contemporary technology available at the time, one is the devoted user, who doesn't care how you use the computer, as long as it gets the job done (perhaps better and faster than before), and then there's the tinkerer / hacker who just wants to play around and push old systems to, and beyond, their designed limits.
This page contains a constant work in progress: a list of links to various online projects and products involving the interfacing and integrating of modern computing and electronics technology to older computers or game systems — either to replace failure-prone parts, to enhance their functionality, or "just because you can." It's intended mainly for the tinkerer type, but it could also easily be of interest to the devoted user as well. And a word to the purists: manufacturing techniques become obsolete as fast as the computers themselves, and eventually, all hardware will fail, with no future replacements in sight. So to keep your systems (and especially the data on them) running into the future, you will eventually have to succumb to this trend as well.
By every right, software emulators should be on this list, since they are an incredibly important part of the historical preservation of these systems. However; there are so many better pages out there already dealing with emulation, so there is no need to beat a dead horse (unless there is something especially unique and interesting to note in the field).
Without further ado, here's the list. Please contact me with corrections, additions, and broken / dead link information. Thanks in advance. –Benj
———-
Last Updated: 03/12/2008
Computer Systems
Apple I:
System Clones and Reproductions:
Apple II:
Disk / File Utilities:
Mass Storage / Mass Storage Interfaces:
Internet / Networking:
Apple Lisa:
Mass Storage / Mass Storage Interfaces:
Apple Macintosh 68k:
Internet / Networking:
Atari 800 / 8-bit Computers:
Flash Cartridges / SRAM-Carts / Cartridge Dumpers:
Homebrew Materials:
Internet / Networking:
Mass Storage / Mass Storage Interfaces:
Miscellaneous Functionality Enhancements / Mods:
Operating Systems / OS Mods:
PC / Mac Interface Hardware:
Peripheral Interfaces:
Atari ST / 16-bit Computers:
Mass Storage / Mass Storage Interfaces:
Commodore 64 / 128:
Operating Systems / OS Mods:
System Clones and Reproductions:
IBM PCjr:
Internet / Networking:
MOS Technology KIM-1:
System Clones and Reproductions:
MSX:
System Clones and Reproductions:
TRS-80 Color Computer (1, 2, and 3):
Mass Storage / Mass Storage Interfaces:
Memory Upgrades:
Miscellaneous Functionality Enhancements / Mods:
Operating Systems / OS Mods:
================================
Video Game Systems
Atari 2600 (VCS):
Controllers and Accessories:
Copiers, Dumpers, and Game Data Related:
Homebrew Materials:
Video Mods / Hacks:
Miscellaneous Functionality Enhancements / Mods:
Atari 5200:
Controllers and Accessories:
Copiers, Dumpers, and Game Data Related:
Homebrew Materials:
Atari 7800 (Only):
Copiers, Dumpers, and Game Data Related:
Colecovision:
Copiers, Dumpers, and Game Data Related:
Homebrew Materials:
Intellivision:
Copiers, Dumpers, and Game Data Related:
Nintendo Entertainment System (NES):
Controllers and Accessories:
System Clones and Reproductions:
Nintendo Super NES:
Controllers and Accessories:
Copiers, Dumpers, and Game Data Related:
NEC Turbografx-16 / PC Engine:
Copiers, Dumpers, and Game Data Related:
Sega Game Gear:
Copiers, Dumpers, and Game Data Related:
Video Mods:
Sega Genesis / Mega Drive:
Controllers and Accessories:
Vectrex:
Copiers, Dumpers, and Game Data Related:
Miscellaneous Functionality Enhancements / Mods: