Thursday, March 30th, 2006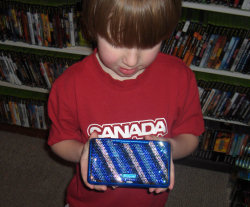 Who knew that you could have interviews about interviews? Well, when you are personally responsible for publishing the world's least-interesting interview, you can! Oh the perks. For those of you who don't know, the subject of that first interview (and the owner of the "Possible World's Largest Video Game Collection") was a bit vague about the details of, well…just about every question I asked. The decision of whether to actually publish the first interview was a hard one. I wanted to let people know more about the man behind the monster collection, but as it turned out, the collector's answers were so unspecific that they essentially poured gas on the flames of Internet speculation. In other words, my initial mission was a total failure. Without the new pictures provided by the collector himself, and the other pictures I had to share, I would have shelved the whole thing.
But I didn't shelve it; I published it and lots of people started getting interested in the collection — many more so than originally expected. Those same people, in the absence of any concrete information, soon began assuming all sorts of unflattering things about the nature of the man behind the collection (That's the net for ya. Whoo!). Having no one but myself to blame for so much intense public scrutiny of this man's personal life (trust me, he did not seek it himself), I thought I'd try to set the record…a little more straight…by interviewing his more outgoing friend and game shopping companion, who also happens to be the man who took most of the original pictures of the collection and persuaded the collector to put the pics online in the first place. And so I did, via email (The Official World's Worst Interview Medium). In grand Internet naming tradition, he shall be referred to as "Nesvidiot."
Yes, he likes Nintendo.
Vintage Computing and Gaming: How long have you known your friend? How did you meet?
Nesvidiot: We met at the flea market in about '95.
VC&G: How old are you? How old is he?
NV: We are both mid-30s.
VC&G: Where is he from and what does he do for a living?
NV: Western Canada. He sells games at the flea market on weekends and eBays during the week.
VC&G: Some Internet commentors have suggested that he of has some sort of psychological condition, i.e. obsessive-compulsive disorder, problems with hoarding, etc. because of his incredibly large collection. How would you answer those people?
NV: People do whatever they want to do — it doesn't matter if it is collecting video games, or hockey cards, or bottle caps. What ever makes you happy is all that matters. People that think he has a problem are usually envious and trying to hide their own problems by focusing on others. Hey, if it makes you happy…
VC&G: Other commentors like to make fun of the small monitor on a table near the SNES exercise bike in one of the pictures as if he played all his games there. Can you tell us what that monitor is for, and does he use it for gaming? Further, could you describe his real gaming setup (if he has one)? Is it upstairs?
NV:He plays games with the family upstairs on the 60″ TV. Downstairs is where he keeps everything and tests games on the little monitor.
VC&G: Why do you think he answered my original questions without much detail?
NV: He doesn't like to boast, he is a really quiet, humble person.
VC&G: Do you have any idea how many games he has? Does he have a system for keeping track of them all?
NV: He has over 10,000 for sure. Yes he keeps lists, although it is hard to keep up with everything sometimes.
VC&G: Can you tell us about some of the highlights of his collection? Any cool and rare stuff worth mentioning?
NV: The SNES Life cycle with Mountainbike Rally/Speed Racer. The Panesian carts boxed, his new crystal DS's, there is just too much cool stuff to mention.
VC&G: How much do you think he spends on video game collecting every month?
NV: Not a clue, probably every spare cent he has after bills.
VC&G: Where does he get most of his games?
NV: We go shopping every couple of weeks together — pawns, thrifts, game stores (EB, Microplay etc.).
VC&G: Does he have a wife or girlfriend? What does she think about his collection?
NV: Yes he has a wife of 17 years, and 2 children. This is what he does, obviously if she didn't approve she wouldn't have stayed with him this long. There are a happy family.
VC&G: Likewise with relatives. What do they think of his collection?
NV: He comes from a background of collecting and selling. They all understand and support him.
VC&G: How do you think his son feels about his father collecting so many video games?
NV: His son LOVES all the games and will inherit it one day I'm sure.
—
In addition to the interview, Nesvidiot added this comment at the bottom of the original interview page:
How many of you, if you had a collection of this size would advertise an open house viewing? Think about it, how many of you would even say anything about it, for fear of becoming a target.
No he is not French-
He has a 60″ bigscreen upstairs
the pics you see are of his collection- not his stockroom
he does collect a lot of import, including over 1300 Super Fam, a ton of Brazilian games, Pal variations, name it he's had it at one time or another.
Most of you big collectors out there have bought games from him at one time or another- whether it be on the old newsgroups 10 years ago or on E-bay since it started.
This is what he does. I collect, videogames were even a business for me at one time, now only a hobby. But this is what he does- all he does. And it seems to work out pretty good for him.
He operates a booth at a flea market on Saturdays and Sundays, during the week he game hunts and ebays games.
Don't be envious- it is hard work to accomplish what he has. Be happy that he is willing to share it with the world. There are other huge collections out there that will never see the press that this one has. It took me a long time to get him to post pics- a lot of the pics were taken by me. I still am in awe everytime I visit him- and he is one of my best friends.
That's all for now. If I here from the collector himself again, I'll update you on it. I'd like to thank Nesvidiot once again for the interview and shedding some light on his somewhat elusive friend!