November 11th, 2005 by
Benj Edwards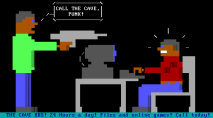 If you read my introduction or the "About the Author" page on this site, you'll know that I ran a BBS from 1992 to 1998. It was a one line, 24-hour WWIV BBS called "The Cave BBS." Anyway, back in the BBS days there was a common convention known as submitting a validation message. This was a personal statement sent to the SysOp (short for System Operator, the person who ran the BBS) that essentially begged and brown-nosed for full access to the system (especially for the file section), sent immediately after registering on the BBS. The new user was taken directly into a message editing screen and forced to send the message. If he or she aborted the message, then the BBS would usually hang up on them. What follows is an example of such a message, sent to me, RedWolf, long ago.
Subject: UMMM
Name: Ceaser #298 @1
Date: Tue Jun 25 19:22:14 1996
RE: Validation Feedback

I am Jonathan A. Matthews and I am a cool person. You just have to meet me. I will spread the word of this BBS because I don't want to be the only one on here.
-JAM-
Ok, so that was a little thin, but I enjoyed it. I like how he spelled Caesar. I suppose I'll give you a little bonus, one of the many silly threats that came in on a monthly basis:
Subject: RED WOLF READ THIS NOW!
Name: Mad Max #115
Date: Tue Apr 04 19:31:49 1995
RE: Validation Feedback

RED WOLF,SOON AS YOU GET A CHANCE,GIVE ME SOME MAIL SO WE CAN TALK ABOUT ME TAKING OVER THE CAVE!ALL YOU ARE IS A PUNK!YOU MIGHT THINK I'M CRAZY BUT I AM
MAD MAX!!!!!
Oh no! Will MAD MAX succeed in taking over the BBS? I guess you'll just have to tune in again next week for another exciting episode of Vintage BBS Validation Messages!