Monday, May 26th, 2014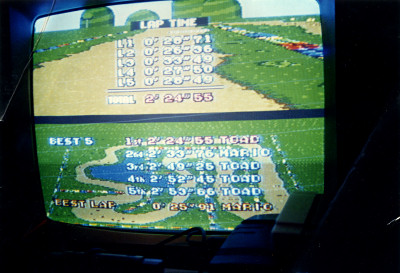 I took this photo around 1992 or 1993 not long after Super Mario Kart came out. I had rented the game from Blockbuster (See "Secret Cartridge Messages"), and I was amazed to see that the cartridge would save high scores (in this case, track records) between sessions.
That blew my mind a little, because it meant that the scores I saw on the screen came from previous renters of the game — I was playing against previous renters' track times! So when I set a new record on a particular track, it carried a little extra weight.
(It struck me, even then, that this sharing of scores between players formed a sort of primitive pass-along gaming network, and coming from a BBS background, that excited me.)
In retrospect, I am positive that the track record you see in this photo is nothing record-breaking in the broader competitive Mario Kart universe. But just getting first place — as a 12 year-old, first-time Super Mario Kart player — filled me with enough pride to take a photo of the game screen as viewed from my family's 1983 TV set.
Remember that this was the era when people used to take photos (with film cameras) of high score screens and physically mail them to Nintendo Power so they could be listed in the magazine. I'm sure that's where I got the idea to snap the photo.
[ From a personal photo by Benj Edwards, circa 1992]
Discussion Topic of the Week: Did you ever take photos of your video game high score screens?