November 26th, 2012 by
Benj Edwards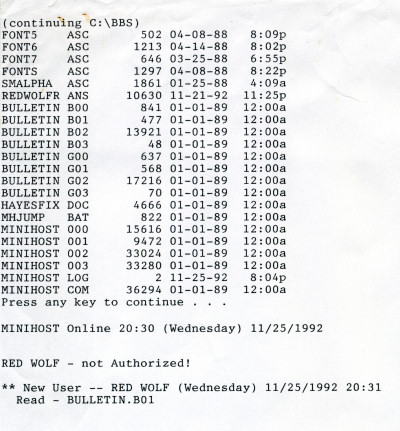 A vintage printout of my first BBS log.
Twenty years ago yesterday, I set up a BBS for the first time. The Cave BBS. Admittedly, it was nothing more than a bare-bones system run through Procomm Plus' Minihost module Minihost, but it was a start. Within a few weeks (with a brief detour running VBBS for a few days), I had a full-fledged WWIV BBS setup running on a Tandy 1800 HD laptop with a 2400 BPS modem.
[Brief aside — I can't find a copy of that ProComm Plus MiniHost for MS-DOS software anywhere — does anyone have it? I have the terminal emulator part, but not the MiniHost.] [ Update 11/27/2012 – Thanks to Jim Carpenter (see comments) for helping me find it! ]
I'm not clear if this is before or after I convinced my father to get a second phone line for my BBSing habit — which had become considerable during the summer of 1992. But I do remember an amusing episode regarding that second line.
In 1992, I was only 11 years old. After advertising my BBS phone number on another BBS for the first time, I started getting calls on the BBS line in the middle of the night, which disturbed my parents. Naively, I still had a conventional phone hooked up to it — with the ringer turned on — sitting in my bedroom.
One night, just after I had brushed my teeth and was winding down for school the next day, the second line rang, and my mom answered it. The caller heard her talking over their modem speaker and picked up the phone as well. My mom told them that I couldn't answer because I was only 11 years old and I was going to bed. For the next year or so, a few of my early users relished in embarrassing me by recounting stories of talking to my mom on the BBS line.
The End of The First Cave BBS
Of course, I grew up over the years while running the BBS, and it became a major part of my life. The first thing I did every morning after waking up (and before going to school) was to review the latest validation messages and check on the status of the system. I had the sequence of keypresses required to validate a user memorized so well that I could do them while half-asleep.
(I was late to school more than once because of various memory-leak crises that required my immediate attention as a system administrator.)
I was almost 17 when the first incarnation of The Cave BBS went down on February 9th, 1998. Some piece of BBS-related software crashed that day before I had to go to school — I don't remember exactly what it was — and I used it as an excuse to just not bring it back online.
While I had been using the Internet since 1994, by 1998 I wanted to use my dedicated phone line for the Internet 100% of the time. Besides, BBS callers had been steadily declining since at least 1995 due to the rise of the Internet. It was the end of an era.
The Story of the Scan
In my early months of BBSing, one of my best BBS friends (who had, prior to me, been the youngest sysop in the area) became jealous that I had set up a BBS of my own. Over the summer of 1992, I had called up his BBS literally thousands of times, racking up a few $200 long distance phone bills that made my father none-too-pleased. (I didn't realize it was long distance because the BBS had the same area code; go figure.)
So not too long after I set up my BBS, that supposed friend impersonated another friend of mine — who was helping me set up my BBS — by logging in as him and uploading a tool that would supposedly help me create ANSI art. Unfortunately, the "tool" was really a virus, and I watched in tears as it wiped clean the hard work I had put into building my new BBS.
The attack didn't end there, either. He also logged into other BBSes as me (with my password, which he had from his BBS) and posted slanderous messages in my name.
That betrayal really, deeply, and truly devastated me as a person — remember, I was only 11 years old. After that, I constructed a fictional alter-ego to shield myself from those who would prey on my naivete and youth. (You can read more about that subject in this VC&G post I wrote in 2005.)
Betrayal aside, with that virus wipe, I lost almost all of my early BBS-related records and files. So I was elated earlier this year when I found the piece of paper you see above in a box of old papers at my parents' house.
It is a Canon BubbleJet printout of my BBS files directory and part of my first BBS host log file. It is the only remaining record I have of the date on which I first set up my BBS: apparently, November 25th, 1992. I'm not sure if I printed it out inadvertently or whether I actually had the foresight to preserve a record of those events, but either way, I'm glad I have it now.
The "Red Wolf" seen on the scan above was my BBS alias, and I was logging into my host program for what looks like the first time. There is an ANSI file dated a few days prior, but my memory is too foggy to know whether I had attempted to setup the actual BBS prior to November 25th.
The Cave BBS Lives On
In 2005, after a 7 year hiatus, I set up a continuation of The Cave BBS using Synchronet and a telnet connection that still runs today. In fact, earlier this year, I moved the system to a new ultra-low power server (6 watts, silent, fanless) that I've been meaning to write about. If you'd like to connect, telnet to cavebbs.homeip.net port 23.
[ From a 1992 inkjet printout by the author ]
Discussion Topic of the Week: Did you ever call any BBSes in the 1990s or earlier? Tell us about it.
—


See Also: BBS Stories Archive Looking for Submissions (2006)
See Also: The Dial-Up BBS Revisited (2006)