September 1st, 2006 by
Benj Edwards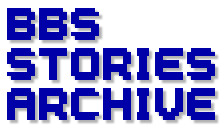 I've long wanted to archive personal stories related to computers. Aside from being wonderful nostalgic reads, such a collection will likely be an important source of first-hand accounts for future historians. That's why I'm creating the BBS Stories Archive. I'll eventually have a site or section on VC&G dedicated to this (and other, non-BBS stories), but for now, I obviously need material for the archive first.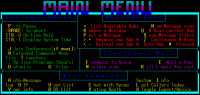 I'm looking for any personal, true written account about Bulletin Board Systems, whatsoever. The account can be about any topic (as long as it's BBS-related and non-fiction) you'd like to recount for us, and can cover any age, any time (even up to the present), any software, or any experience. The longer and more detailed the story, the better. You might have only called a BBS once in your life, but if you'd like to write down the experience, that's completely fine with me. The stories don't have to be incredible or especially unique; any account of even the most seemingly boring activities will provide immense value to people of the future looking back on how BBS technology was used. On the other hand, unique stories are, of course, welcome as well. Did you meet your wife on a BBS? Lose your job over a BBS? Save the world through a BBS? I want to know about it.
So if you'd like to participate in this grand historical project, either email me your accounts here, or if you prefer, you can even post them as comments on this entry. If they're relevant, they will be added to the archive. You will retain all rights and credit (unless you wish to remain anonymous) for your story and writing, by the way.
And yes, I know that no discussion of BBS historical efforts online can transpire without mentioning Jason Scott's incredible work with both his BBS Documentary and Textfiles.com. I'm sure he has a wonderful collection of BBS stories himself, but there's no harm in having two BBS historians out there.