Tuesday, July 31st, 2007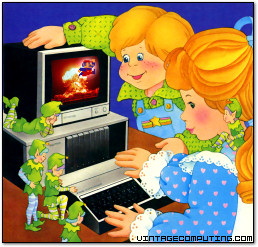 Sure; it's easy to make fun of what kids say. They're young, inexperienced, and they'll do anything to finish a forced elementary school project on time. But I believe there's no harm in finding entertainment in the whimsical creative works of children, especially when they attempt to write a history of video games. While some of the student-written history I've found online is impressively accurate, other times it seems ridiculously and hilariously mangled, probably the result of some quick copies and pastes from an online source. Either way, it's all gold.
I find it exciting that certain teachers are web-savvy enough to let their students create online reports. It's not only good for the kids, but it's often funny as hell for everyone else. The following examples were taken from two different student reports on a real US elementary school website. I'd love to link to the actual pages themselves, but the URLs have been removed to protect the innocent and their microscopic bandwidth. You'll just have to trust me on this one.
[ Continue reading Kids Say The Darndest Video Game History » ]