January 6th, 2012 by
Benj Edwards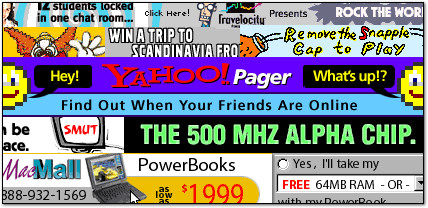 While browsing through my file archives some years ago, I ran across a few folders of locally cached web pages. Browsers like Netscape and Internet Explorer saved these files in order to speed up load times upon future visits to the same sites. Browsers today do the same thing, but the functionality was far more vital in the days of sluggish dial-up modem connections.
From those folders, I culled a large collection of vintage web banner advertisements from 1996 to 2001. Each one is a bite-sized time capsule of web and Internet history, recalling events and trends of the day. You're about to see a big 'ole gallery of these ads with minimal captions that include a month and year they were captured (I got this from the file dates of the images). A few of the ads betray some interesting browsing habits, like the two for online gambling sites. I blame my brother.
If you're tempted to click on any of these (like I am) then I suppose these ads did their job, but you won't find anything on the other side. Most of the sites advertised in these banner ads went out of business long ago.
If you have any memories of the products or sites showcased in these ads, please feel free to share them in the comments below.
Ads from 1996
Snapple, April 1996
Ads from 1997

Volvo, June 1997


Generic, September 1997


Travelocity, September 1997


Egghead, October 1997
Ads from 1998

Digital, January 1998


Digital Alpha, January 1998


Netgrocer, May 1998


1998 Internet Study, May 1998

Pizza Hut, May 1998

MoneyHunter, May 1998


Netgrocer, May 1998


Netgrocer, May 1998

Yahoo! Pager, May 1998


Drug Quiz, December 1998


MacMall, December 1998

Digitalchef.com, December 1998

CDNOW, December 1998


Smartparent.com, December 1998


ezspree, December 1998


Panasonic D-Train, December 1998
Ads from 1999

Yahoo! Pager Chat, March 1999

Toys'R'Us, March 1999

Microsoft Internet Explorer 5, March 1999


Miningco.com, March 1999


Coolsavings.com, March 1999


Coolsavings.com, March 1999


NCAA March Madness '99, March 1999


BellSouth Real Yellow Pages, March 1999


Yahoo! Pager, March 1999


Netscape Netcenter Personal Finance, April 1999


MicroWarehouse, April 1999

Sweepstakes, April 1999

Rent.net, April 1999

uBid, April 1999

Autoconnect, April 1999

All-American EZWheels, April 1999


Montana, April 1999


boxLot.com, April 1999

Flowerfarm.com, May 1999

Ameridebt.org, May 1999

AT&T One Rate Online, May 1999

Sands of the Caribbean, May 1999

The Gambling Den, May 1999

NetCard May 1999

SesameStreet.com, May 1999

PetQuarters, August 1999

Pringles, August 1999

Faxes by Email, August 1999
Ads from 2001
Pizza Hut, November 2001