Wednesday, February 28th, 2007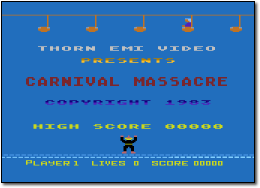 I have to admit that I've murdered more than my fair share of virtual people. I always go for the head shot in Gears of War. I run down pedestrians in Grand Theft Auto like it was going out of style. There's something about the thrill of spilling innocent pixelated blood while hearing digitized screams of absolute terror that keeps me coming back for more, time and time again. And until the McClinsky-Grinhold Virtual Rights Act of 2042 passes, I should be free to indulge in the simulated murder-violence of virtual humans.
Seeing that this is a "vintage gaming" site, I thought I would take a look at some of the "great moments" of digital simulated violence in the past. My only complaint is that, prior to 1989, video game graphics were not sophisticated enough to depict gushing, free-flowing rivers of crimson plasma with any regularity. You kinda had to use your imagination to fill in the blanks. Bummer. Nonetheless, in this column we'll be taking a look at an early pioneer in senseless virtual bloodshed, Thorn EMI Video's Carnival Massacre for the Atari 800 computer system. Carnival Massacre is a 1983 classic that, with a few minor changes, could quite possibly have been the greatest game of all time.
[ Continue reading Great Moments in Video Game Violence: Carnival Massacre » ]