August 30th, 2006 by
Benj Edwards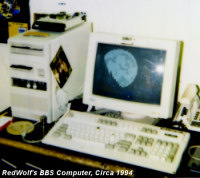 Most BBS enthusiasts know that the last outpost for BBSes has been, for some time now, through telnet on the Internet. There was a time, however, when when dial-up BBSes over analog phone lines were the rule, not the exception. And believe it or not, there are still a handful of BBSes out there that have not modernized and switched over to the 'Net. The only way you can get to them, though, is through an old fashioned analog phone modem, regular ole Ma Bell lines, and a little patience.
Visiting such old BBSes is incredible — it's like traveling back in time to the early-mid 1990s. Each BBS is a unique a time capsule, stocked with trinkets and ephemera from the period. On message boards, you'll find posts from 1994 about the O.J. Simpson trial and which player-made Doom levels are best. In file transfer sections you'll run across large archives of long-forgotten Windows 3.1 screen savers. In door sections (online games), you'll find abandoned TradeWars 2002 games, still in progress, that haven't been touched in eight years. And of course, the Ferrengi have completely taken over.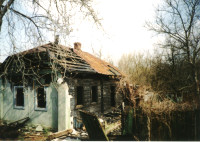 These few remaining dial-up BBSes understandably receive very few calls these days, so they tend to feel a little eerie and lonely, like digital ghost towns. Some of the message threads out there have been left hanging and incomplete, with the original post echoing like a thin, ghostly voice through time, still pleading for a response. In some cases, it's as if an entire online community was caught unawares, swallowed up, and perfectly preserved in Pompeii-like ash. Everything's there, in place…except the people. Perhaps analogies to the Mary Celeste would be more appropriate.
All this makes me wonder why the Sysops who own these BBSes keep them running with such little traffic. Did they just forget to turn off their machines in 1998 as the Internet finally swept away the traditional US BBS scene? Did the old Sysops die and nobody noticed that the automated machines were still running, undetected, in a dusty back room somewhere? The possibilities are incredibly compelling; they really stir the imagination. That's why finding such forgotten realms elicits a sense of discovery in me, like being an explorer discovering a long-lost temple in the overgrown jungles of Peru — all the more reason to give the old places a visit.
Time Travel, Vonage Style

The one thing that's kept me from revisiting these old BBSes, until now, is long distance phone charges. There used to be so many BBSes that you could always find a local one in your area code, but that hasn't been true since 1998. You'll have to scour the continent (courtesy of somewhat musty online BBS lists) looking for dial-up BBSes that are still running. Even then, you might be too late — often you'll find that the boards on the list have already been lost to the ages. And unless you're really lucky, the boards that do work are almost always in another state — hence the long distance problem.
Enter the solution: I've had phone service through Vonage for the last eight months. For those of you who don't know, Vonage is a VoIP-based phone service that gives you a dedicated phone line in any area code you wish (in the US), along with unlimited long distance to North America, incredibly cheap international call rates, call waiting, caller-ID, and all the bells and whistles. No, this is not a commercial for Vonage, but you need to understand what it is.
I always wondered if Vonage, being tuned for voice communication (hence the "VoIP" part), could handle data communication with an analog telephone modem. I was concerned because modems, especially at higher speeds, probably generate some crazy fluctuations of tones that certain (or most?) VoIP codecs might not be able to handle. After successfully sending some faxes (which typically transmit between 9600 bps and 14.4 kbps), I thought I'd try my luck with a traditional data modem and a BBS.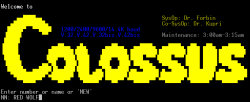 "Colossus" in Virginia (703-818-8904) is a favorite BBS of mine because it's one of the few dial-up WWIV BBSes left out there (WWIV is the software I ran myself back in the day). Colossus is also unique in that it is likely the only BBS running vintage WWIV v4.24 that also has a working telnet connection (for those of you who'd like to try it out sans modem, here's your chance). The reason why such a telnet connection is incredibly rare is because v4.24 wasn't designed to use a telnet connection — only a modem, so it requires some sophisticated tricks, obscure software, and a little OS/2 magic to make it work. Someday I hope to reproduce his accomplishment and put my old WWIV v4.24 BBS online through telnet. But that's another story.
So I dialed up one of my favorite BBSes. The connection was very laggy, but still usable if you know how to clench your teeth tightly enough. There was a significant delay between what I typed and seeing it echoed back to me over the line. An excerpt from this page on Experts Exchange gives some clue as to why this happens with VoIP lines:
The Vonage VoIP service has packetization at 20ms intervals as standard. You can phone up Vonage and get them to change this to 10ms instead which shouldn't affect the phone service but should allow the analog modem to work [much better]. Phone tech support and ask them to change your packetization from 20ms ("high") to 10ms ("normal").

You could also try adding *99 to the beginning of the number you are dialling. This tells Vonage to do the following for THE NEXT CALL ONLY:
1) Change packetization from 20ms to 10ms
2) Disable "Bandwidth Saver" (gives the modem more bandwidth)
3) Uses codec G.711 (good for data).
It seems the "packetization rate" of the VoIP connection has a lot to do with the lag I experienced. Now if I truly understood exactly how all this "packetization" worked, I might be able to tell you exactly why it does what it does, but I don't (doubtless, some one out there could fill us in with more detail). All I know is that there is delay in encoding and decoding the data sent over the connection, which is understandable due to the technology involved. I tried dialing *99 in front of the number as suggested (to force the line into "fax mode"), but it didn't make any noticeable difference to me.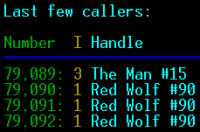 Latency problems aside, I still found the connection usable (even if annoying at times), and the possibilities incredibly exciting. Heck, with Vonage's cheap international call rates, maybe I could even find a dial-up BBS in China? Russia? South America? That would be incredible (If anybody finds some working international BBS numbers, let me know). Use of Vonage for dial-up BBSes has opened up whole new worlds to me…that are, ironically, also very old.
If you have Vonage — or even if you don't — I highly recommend trying it out at least once. Fire up your dusty old computer, flip on your modem, and plug it into that neglected RJ-11 port in the the wall (or the Vonage box, depending on how you have it set up). Oh, the joys of the derelict BBS! Nothing really takes you back like working with Telix or PC Plus in DOS, full-screen, and hearing the old modem screech again, if only for one last time.
Update: Say it Ain't So!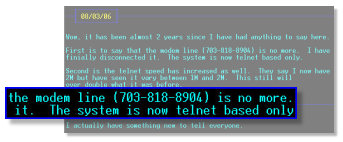 Breaking news. Since I started writing this article, we've lost another one. 🙁 Earlier this month, Colossus's Sysop, Dr. Forbin, announced that he was finally taking down the dial-up line. It's sad news to me, but luckily Colossus's telnet line is still up and running if you'd like to check it out. Well, at least I got to experience the classic dial-up goodness of Colossus one last time before the end. Nobody said these things would last forever.
Update (09/01/2006): Have a BBS story yourself? Please consdier submitting it to my BBS Stories Archive.