Monday, April 25th, 2011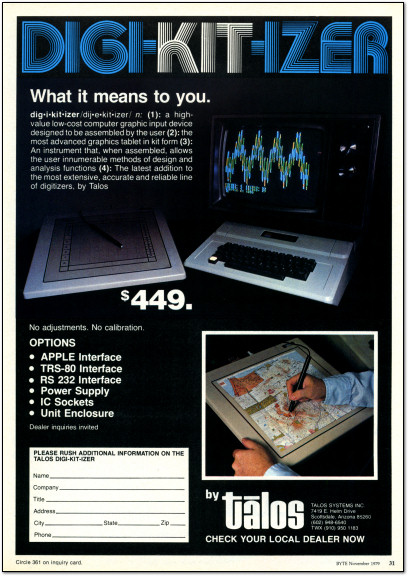 The Talos Digi-Kit-Izer digitizer tablet
Digitizer tablets were a popular way of digitizing graphical information in the 1970s and 1980s — an era before cheap optical scanners (and the memory to store those scanned images) became available.
To use a digitizer, you would place an image you wanted "digitized" (translated into the computer) onto the tablet and mark the key points of the illustration with a special stylus or cursor (a handheld mouse-like device with a small targeting window) hooked to a computer. Through this process, the stylus/tablet combination would interpret the spacial relationship between the points you marked into a series of graphical dots on the computer screen. Those dots, in turn, could be turned into a 2D computer image (think connect-the-dots) if desired.
With some tablets, it was also possible to trace lines of an illustration with continuous strokes of the stylus. These tablets evolved into the modern Wacom-style graphics tablet we know today.
[ From Byte Magazine, November 1979, p.31 ]
Discussion Topic of the Week: Have you ever used a graphics tablet (of any kind)? Tell us about it.