September 14th, 2007 by
Benj Edwards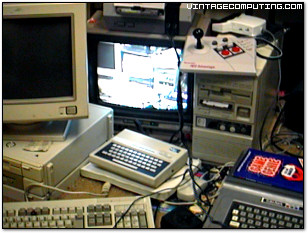 Yep. Some things never change.
Rising like a phoenix from the ashes of my heretofore mostly forgotten digital archives comes this rare look into my collecting past. I shot this with a video camera and a Snappy Video Snapshot, which was an early still-frame video capture device that attached to a PC's parallel port. Behold the floor of my computer room circa November 1996, as it lay covered with a diverse mixture of vintage computer and video game equipment.
Pop quiz! Study the picture. How many items and accessories can you name by manufaturer or model? Bonus points to anyone who manages to name the early XT clone on the left.