March 24th, 2006 by
Benj Edwards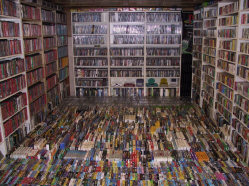 I first ran across this man's amazing collection a little over two weeks ago when looking at pictures of cool "game rooms" on Videogame collectors.com. What struck me as most unique about this collection was the sheer volume of games and the fact that they almost entirely covered all the walls and the floor of an entire room. After posting a note about the collection on my blog, word of this massive collection quickly spread around the Internet, unfortunately toppling the Videogamecollectors.com site under the heavy weight of intense visitor traffic shortly thereafter…from which it has still not yet recovered (oops!).

Fascinated by the collection, I managed to track down its owner (who wishes to be known publicly only as "videogamecollector") and conduct an email interview with him. Well, I attempted to, anyway. He's a bit reclusive (answering only 10 of 17 questions asked), and not exactly a master at typing the English language (I've had to clean up his answers quite a bit), but he was kind enough to provide a nice little window, however small, into his unique world. He also sent me some new pictures of his collection, which are displayed throughout the interview below. And for sheer completeness, I'm also providing some of the original collection pictures (from Videogamecollectors.com) at the end of the interview. (Note: Be a pal and please link to this article, not directly to the images. Thanks!) And now, on with the show.
Update (03/30/2006): I just posted an interview with one of the collector's best friends, which reads more like this original interview should have. He sheds a lot more light on the mystery collector. Check it out here.

Vintage Computing and Gaming: Thanks for agreeing to the interview. A lot of people have seen your impressive video game collection as linked from my blog recently and are eager to know more about it. First off, what do you do for a living?
Videogamecollector: Collect video games, for now.
VC&G: About how many games do you have in your collection? Have you ever counted all of them precisely?
VGC: I'm not sure if I really want to know.
VC&G: What has driven you to collect so many games?
VGC: It seems to be the rush of finding something I don't have. Or you can call it my addiction.
VC&G: How many game systems (physical console units) do you have, including duplicates?
VCG: Again, I'm not sure — gotta get rid of those duplicates.

VC&G: What parts of your collection are you most proud of? [i.e. complete SNES game library, all RPG games for Saturn, etc] Also, what are some of the rarest items in your collection?
VGC: Gotta think this one over for a few weeks.
VC&G: What are your collecting goals? For example, are you simply trying to collect every game ever made, or do you focus on label variations, all games for a particular system, game genres (RPGs, fighting games), etc.?
VGC: My goal is to get the games on my want list and sell all my variations and doubles.

VC&G: Do you have a database or a list of all your games so you can keep track of them better? Or perhaps a system for storing them so you know where everything is?
VGC: I had a list of everything, and I'm now redoing my lists.
VC&G: Your collection seems to take up a lot of space. Where is the collection located? Is it in your basement? Have you ever had to physically move your entire collection?
VGC: Yes, everthing is in the basement. I've never had to move everything yet.

VC&G: How long did it take you to amass your video game collection?
VGC: 16+ years.
VC&G: Do you know of anyone on Earth with a larger video game collection?
VGC: There are a few collectors online that have more, I think. Not sure though.

VC&G: Is the young boy in your collection pictures your son? If so, what does he think of your collection and video games in general? Do you ever let him play any of your games?
VGC: Yes, my son plays games. He has a few hundred games in his room that he plays.
VC&G: Thanks so much for taking the time to talk to me.
VGC: Thanks.

Do you have or know of a video game collection bigger than this one? If so, drop me an email!
And now, as promised, here are the original images [Note: Be a pal and please link to this article, not directly to the images. Thanks!]: