Tuesday, November 29th, 2022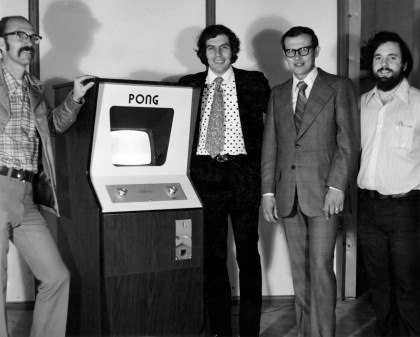 Atari founders circa 1972-73 (from left to right):
Ted Dabney, Nolan Bushnell, Larry Emmons, and Allan Alcorn
[ Atari Pong turns 50 years old today, and I thought it might be fun to revisit an article I wrote about the game's creation for Edge Magazine (Issue 248) back in 2012. Since the web version of that piece is no longer online and I retained the rights, I am republishing it here. –Benj ]

Forty years ago this November, Atari introduced the world's first video game sensation, Pong. The game, while not the first of its kind, would provide the economic catalyst necessary to jump start a completely new industry.
In 1971, Nolan Bushnell and his partner Ted Dabney created the world's first commercial arcade video game, Computer Space, for California coin-op manufacturer Nutting Associates. It made a minor splash in the arcade market, but it was not wildly successful.
For round two, Bushnell wanted to follow up with a driving game for Nutting, but he quickly found himself at odds with Nutting's executive staff about the direction of the company's video game products. He resigned from the company, taking Ted Dabney with him.
Bushnell began to shop his driving game idea around to other American coin-op makers. Bally, then the largest arcade amusement company in the US, showed interest in the idea. The firm awarded Bushnell and Dabney — then doing business under a partnership named "Syzygy" — a contract to develop a video game and a pinball table. Syzygy would create the video game design and license it to Bally, who would produce the hardware and sell it under the Bally name.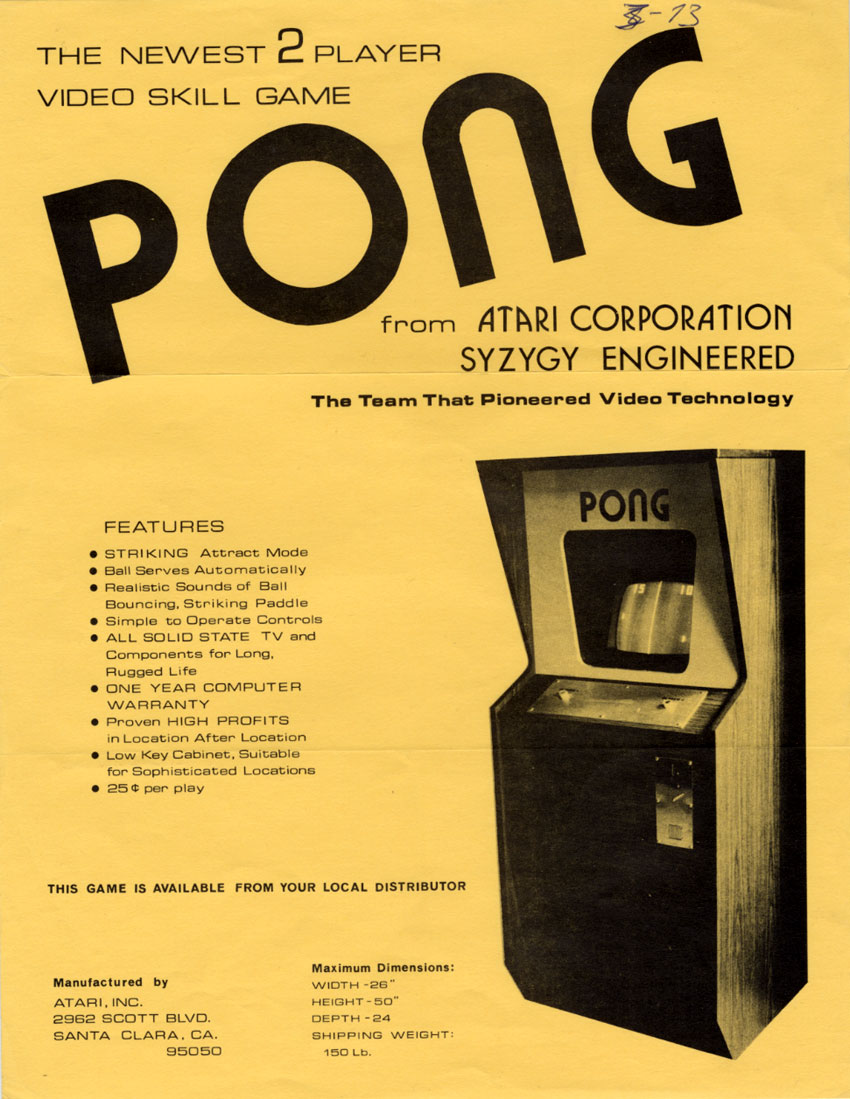 Under the new contract, Atari received $4,000 a month to develop the two games, which gave just enough financial room to hire an employee. Recognizing his limitations as an engineer, Bushnell reached out to Allan Alcorn, a former colleague from Ampex, and asked him to join the company.
Alcorn, then 24 years old, accepted the offer to work for Syzygy in June 1972. It was a risky move at the time, but after a few years at Ampex, Alcorn had grown bored with his work. He was ready for a new challenge at a startup company, and both Bushnell and Dabney recognized his considerable talents as an engineer.
That same month, Bushnell and Dabney incorporated their company under a new name, Atari, Inc., and set out to change the world of arcade entertainment forever.
[ Continue reading [ VC&G Anthology ] The Making of Pong (2012) » ]