Monday, April 28th, 2014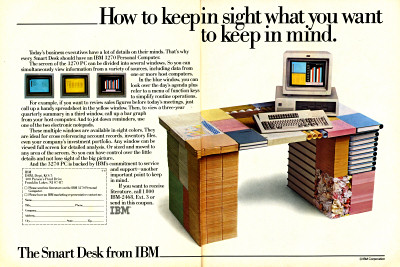 Multitasking in the early days.
Ah, the IBM 3270 PC. What a strange beast. It was essentially an IBM PC that could also emulate an IBM 3270 terminal, which allowed it to link up to IBM mainframes. In a sense, this was IBM's version of the AppleLine protocol adapter (featured in a Retro Scan a few weeks ago), albeit one built into an IBM PC.
By the way, look at the keyboard on this machine. Function keys galore. I've always wanted one of those.
[ From TIME, May 6 1985, p.B14-B15]
Discussion Topic of the Week: Have you ever used an IBM mainframe computer?