April 10th, 2014 by
Benj Edwards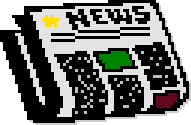 Vintage computing and retrogaming news small enough to eat.
There are too many good links this week. I honestly don't know what happened. Maybe I'm getting better at this.
Recent News
Cool Links
Echo Box
A place for products, creative works, and upcoming projects seeking support. No endorsement from VC&G is implied.
Project: MEGAFOOT
An indie sci-fi action film seeking funding on IndieGoGo. One of the rewards ($150 level) is a limited edition Megafoot NES cartridge.
Submit News
If you want me to include something on a future Newsbits column, send me an email with "[Newsbits]" in the subject line.