April 7th, 2014 by
Benj Edwards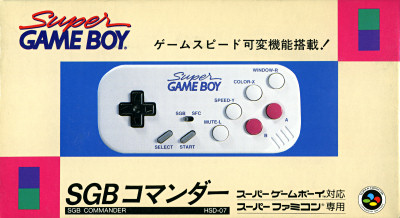 Like a Game Boy outside your pocket on a leash.
Ah, the Super Game Boy. What an enchanting peripheral it was. (I wrote about my feelings for it in eighth-ever RSOTW entry back in 2006.)
In case you missed it, the Super Game Boy was a special cartridge that let you play Game Boy games on the Super NES using a TV set and a SNES controller.
Around the time the Super Game Boy came out in Japan (1994 I believe), the always-amusing Hori released a special controller that partially simulated the look and the feel of the original Game Boy unit itself — right down to the speaker grille in the lower right corner. The resulting product, the SGB Commander, never saw the light of day in the US, but that didn't stop me from importing one about a half decade ago when they were on sale at NCSX for a very reasonable price.
As far as controllers go, the build is sturdy and responsive. It works as well as any decently-made controller with the Super Game Boy, although I'm not sure it was entirely necessary. For that reason it remains a very neat oddity in the history of game controllers.
By the way, here's what the back of the box looks like.
[ From Hori SGB Commander (HSD-07) product packaging, circa 1994]
Discussion Topic of the Week: What's your favorite game to play with the Super Game Boy?