January 9th, 2008 by
Benj Edwards
Steve Jobs, the CEO of Apple, Inc., signed my Macintosh. And if you're the owner of a Mac 128k, 512k, or Plus, he signed yours too. In fact, so did Woz.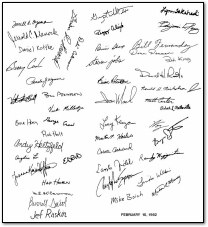 In crafting the original Macintosh, Steve Jobs viewed himself and his team as artists. As such, it was only fitting for the renegade band of Apple developers to sign their work. At the urging of Jobs, the Mac design group held a small party on February 10th, 1982, during which they ate cake, drank champagne, and took turns signing their names onto a large piece of paper (see image, right). Soon afterward, Jobs had the signatures engraved into the Macintosh case mold, with an obvious result: Apple permanently impressed the team's autographs into the plastic case of every Mac that rolled off the production line.
You might notice that some of the signatures present on the original signing sheet are missing on the Plus. But fear not; no one was slighted. All the names originally graced the interior of the first Macintosh release (128k), but according to Andy Hertzfeld, some names were lost over time due to revisions of the case design on subsequent models. For example, compare the Mac Plus interior with this picture of the original 1984 Macintosh case.
I recall seeing signatures in the cases of later Macs by the teams that designed them. But I can't remember if the later compact Macs contain the original names seen here, or simply others that worked on those particular projects.
Channel Your Inner Jobs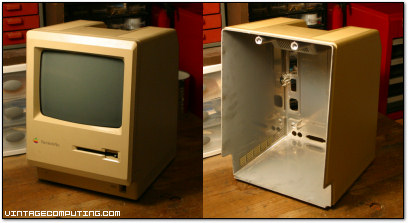 To locate these hallowed names within your own Mac case, simply take your machine apart and peer inside the rear half of its chassis. They might be hard to see at first, but they're there, hiding in the back. Keep in mind that the presence of signatures on your case doesn't make your Mac any more or less valuable than it would be otherwise — every early Mac has them, without exception. But at least now you can impress your friends with a formidable piece of Mac trivia.
Shortly after the launch of the Macintosh in 1984, most of its original development team parted company. But in a poetic way, they will always be united inside your Macintosh. It's a fitting, populist monument to an extraordinary chapter in computer history.