January 7th, 2008 by
Benj Edwards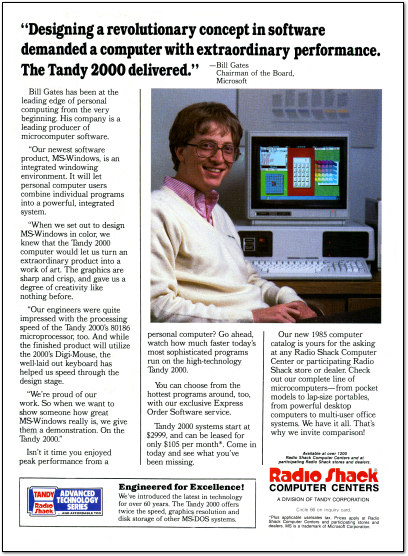 "We were quite impressed with the speed of the Tandy 2000's 80186 processor."
In honor of this week's Consumer Electronics Show (CES 2008), I've prepared a special RSoTW that highlights the little-known side career of its keynote speaker, Bill Gates.
Product endorsement ads like this one for the Tandy 2000 computer weren't unusual for the Gatesmeister back in the early 1980s. Of course, those were the days before Microsoft was insanely huge, rich, and unstoppable. I wonder how much he got paid for the gig?
(P.S. Take a look at the early version of Windows featured in the ad!)
[ Scanned from Popular Computing, November 1984 ]
If you use this image on your site, please support "Retro Scan of the Week" by giving us obvious credit for the original scan and entry. Thanks.