April 21st, 2014 by
Benj Edwards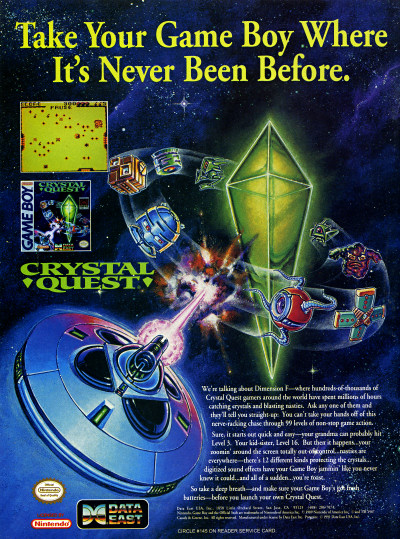 Game Boy: The Final Frontier
Fans of early Mac games will no doubt remember Crystal Quest, which (I believe) was the first Mac game to use color graphics just after the Mac II came out in 1987.
Crystal Quest on the Mac played like a space-based Robotron: 2084 controlled with the mouse, albeit with a loose trackball feel because your ship kept moving in the direction you nudged the mouse until you corrected its course. So I'm not sure how it played in this obscure Game Boy port from 1991. Perhaps I'll fire up an emulator right now and find out.
[ From Video Games & Computer Entertainment, August 1991, rear cover]
Discussion Topic of the Week: Can you think of any other game that started on the Macintosh then received a port to a Nintendo console?