June 8th, 2012 by
Benj Edwards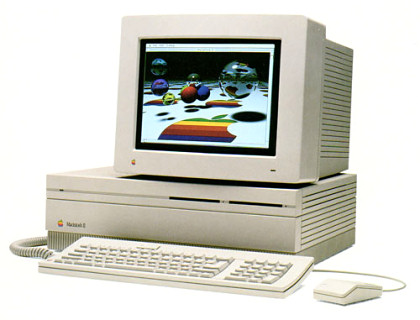 25 years ago this March (1987), Apple released the Macintosh II, the first open architecture Macintosh. Naturally, I've written a short feature about this pioneering machine over at Macworld.
While speaking with Michael Dhuey, the Apple engineer that conceived the Mac II, I learned that Apple patterned the Mac II after the 1977 Apple II, which sported the same sort of flexibility and expandability as the Mac II. That self-referential influence amazed me — especially coming from a company that recently institutionalized the practice of ignoring its own history.
But only two years after Steve Jobs resigned from Apple, the company had no problem making the un-Jobs move of both looking backward and opening up the Macintosh. The result changed the course of Macintosh history.
Here's a nice look at the Mac II's motherboard in a diagram from the April 1987 issue of BYTE Magazine: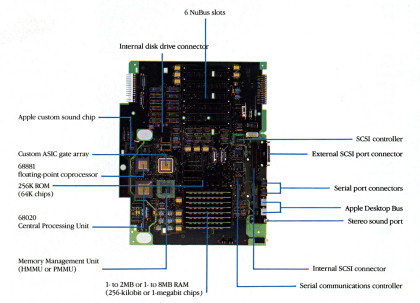 I was lucky enough to find a working Mac II in a Goodwill store back in 2000, and I've always enjoyed playing with it. The ease of upgrading the machines via NuBus cards is amazing when coming from the complex, IRQ-riddled world of the early IBM PC.
Learn more about the Macintosh II by checking out my article, "The Macintosh II Celebrates its 25th Anniversary," over at Macworld.com.
Other Mac II Firsts
The Macintosh II brought with it many firsts to the Mac line, both significant and trivial. Some of these are discussed in more detail in the article linked above, but we'll touch on most of them here briefly.
First personal computer to support multiple displays and screen-spanning out of the box.
First personal computer to natively support 32-bit color capability (although it required a separate graphics card).
First Mac with NuBus slots.
First Mac with stereo sound output built-in. It could play four 8-bit, 44.1 KHz voices per channel.
First Mac that could run UNIX — in this case, A/UX, a hybrid UNIX system with a GUI shell produced by Apple in 1988.
First Mac outfitted with a floating point unit (FPU).
First Mac that could be powered-on using the reset key on the keyboard.
First Mac with a modular design that separated monitor and base logic unit into two detached boxes.
First Mac to be sold without a keyboard as part of the standard package
First Mac to play the "chimes of death" upon a system error.
One of the first two Macs (along with the SE, released simultaneously) to use ADB keyboard and mouse ports.
One of the first two Macs (along with the SE) to ship with an internal hard drive option.