October 7th, 2006 by
Benj Edwards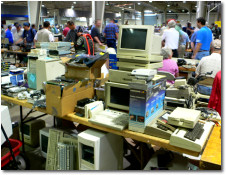 Those of you who have been reading VC&G for some time have probably encountered the occasional mention of "hamfests" in accounts of my collecting adventures. Contrary to what you might think, hamfests have little to do with pork (we here in NC call that a pig pickin'), but a lot to do with amateur radio. For almost a century, amateur radio operators have been called "hams." The exact origin of this term is lost to history; there literally dozens of stories that speculate on the reasons behind its genesis. So if you take "ham" and combine it with "fest," as in festival, then you get "hamfest," which is, essentially, a flea market or swap meet for items that hams find interesting.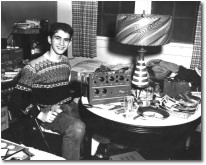 Hams were the first electronics hackers, having to make do with whatever parts they could find to build their own rigs long before commercial products for their hobby were available. So when the first personal computers came along — usually in kit form or requiring lots of work on the user's part to get them running — it was a perfectly logical extension to their hobby. Thanks to their experience with amateur radio, the tinkering required for properly utilizing early, primitive home computers was like second nature to them. In no time, amateur radio enthusiasts had adapted personal computers for tasks like encoding and decoding typed text into CW (Morse code), or using them for RTTY or packet radio communications. Their hacker ethos extended through the decades all the way to the present, naturally making hams interested in all manner of technical devices and knick-knacks, and making hamfests a great place to find such items.
Thanks to my father's long-standing interest (and profession) in both electronics and amateur radio, I have been attending hamfests since I was a child. The local hamfest that I have frequented most, and that you are about to witness, is an annual event run by the Raleigh Amateur Radio Society (RARS), and is thus properly known as "RARSFest." This particular RARSFest occurred on April 23rd, 2006, and due to reasons such as getting married and moving shortly afterward, I haven't had the time to show you these pictures until now. So here we go…
That's all for Part I, and we're only beginning! With the introduction out of the way, in Part II (which will be up on Tuesday, October 10th), you'll get to see me make a lot more great finds at the 'fest.
– Read Part II Now –
– Read Part III Now –