March 18th, 2008 by
Benj Edwards
What is Nasty?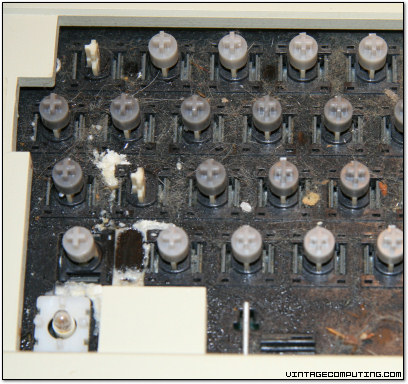 Nasty is the keyboard of my well-loved 29 year-old Apple II Plus.
It's always a bad sign when a keyboard that's been sitting untouched for ten years in climate-controlled storage is wet beneath the keys, coated with a glistening, gooey gunk of unknown origin. Mix in two decades of fuzzy dust and moldy cat hairs, and you have yourself a potent cocktail of pure, unadulterated Nasty.
What Does One Do About Nasty?
One cleans Nasty with a vengeance. Key by key, if one has to.
In this case, I got lazy and just washed all the keys in a plastic colander.
When Vengeance Isn't Enough
Time for a complete tear-down and clean-up. I wanted this unit to be as close to new as possible, although I decided to leave my customizations — the pressed four-leaf clover and red novelty "panic button" (in place of the reset key) — as they originally were. Those add what we call character.
Character Generator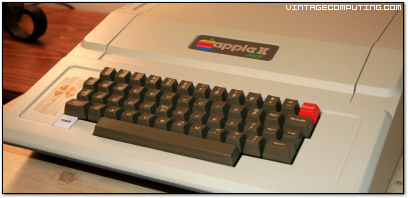 All better now.
(Here's what it looked like before.)
This computer deserves as much. It was on this computer, some eighteen years ago, that I first studied the arcane art of BASIC programming. I spent countless days of my pre-teen years delving into AppleSoft manuals, wholly gripped by my quest to craft new and better software diversions. I loved this machine, and I still do.
Unlike fading Apple IIe cases, the Apple II Plus's case, after a little cleaning, appears almost as good as new. Why? The color of the Apple IIe was molded into the plastic, while the Apple II Plus got its color from a snappy coat of paint. It cleans up quite nicely.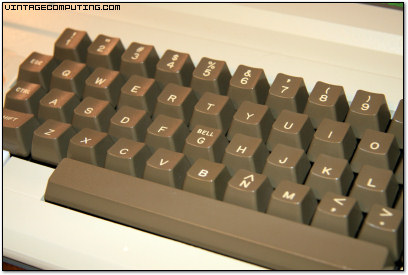 Sadly, cat hairs and dust have already started accumulating on my newly cleaned keyboard. But ah; such is entropy. In another thirty years, it will be time to do it all over again.