July 31st, 2007 by
Benj Edwards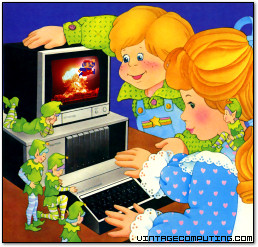 Sure; it's easy to make fun of what kids say. They're young, inexperienced, and they'll do anything to finish a forced elementary school project on time. But I believe there's no harm in finding entertainment in the whimsical creative works of children, especially when they attempt to write a history of video games. While some of the student-written history I've found online is impressively accurate, other times it seems ridiculously and hilariously mangled, probably the result of some quick copies and pastes from an online source. Either way, it's all gold.
I find it exciting that certain teachers are web-savvy enough to let their students create online reports. It's not only good for the kids, but it's often funny as hell for everyone else. The following examples were taken from two different student reports on a real US elementary school website. I'd love to link to the actual pages themselves, but the URLs have been removed to protect the innocent and their microscopic bandwidth. You'll just have to trust me on this one.
Little-Known Video Game Facts
Here's some interesting trivia for you video game history buffs out there, culled from the online reports of two 4th- and 5th-grade students, complete with screenshots of their source pages. Some are elaborated upon in other sections below.
The First Video Game System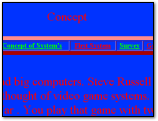 The first video game system, according to one 4th grade student, was Steve Russell's Spacewar. Here's what he has to say about it:
In the past they had big computers. Steve Russell liked science he is the one who thought of video game systems. He thought of the game Space War. You play that game with two players and you fit each other in space ships. Steve Russell did not make money out of the game system because the computer cost a lot of money.
By this description, Spacewar sounds like a fascinating abduction game where each player tries to cram each other into their spaceships (aka "survival of the fittest"). It's a shame the system cost so much money.
Types of Video Game Systems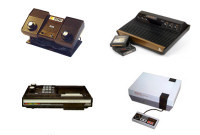 Some of us have always wanted to know about all the different types of video game systems out there. Daniel, a 4th-grade student, created the following handy list so we can learn all about systems like Sony, Sega, Atari, CPU, and my personal favorite, Compression System.
Sony

All because of Nintendo's success,other companies, such as Sega and Sony, soon released their own video game systems. Sony is a big video game system like Sony Playstion or Sony Playstation 2. Sony is also an example of a video game system that uses a C-D Rom.

Sega

Sega is in a phrase of a video game system called Sega Saturn, because of Nintendo's success other companies,such as,Sega and Sony,soon released their own video game systems.

Atari

Atari Pong was the first video game system and was released in the 1975 also the Atari Pong was a big video game system. Atari 2600 was introduced in 1977. Atari 5200 Super System was released in 1982.

CPU

CPU had control of the video game chip with screen refresh. Coleco released the Coleco vision in 1982 at $199.95. It had 48 kbytes of RAM and 3.58 MHz, 8- bit,z80A cpo making it the most high powered home system of its time.

Other video game systems: SNES system, Sega, Sony, Compression System, Super Nintendo Entertainment system (Super Famicom), CPU making is the most high powered video game system of its' time.
The Scientific Approach

Amro, a 5th grade student, didn't rely on second-hand written reports in his quest to document video game history. Instead, he surveyed his class about three topics and plotted the results in Microsoft Word. Yes, these are graphs taken from an actual elementary school website. Let's take a look at his results: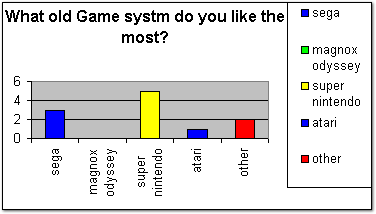 The Magnox Odyssey garnered no votes amongst the 11-person 5th-grade sample.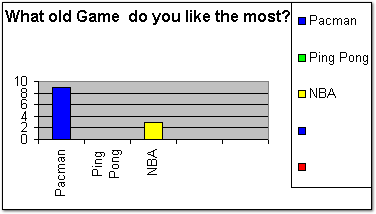 NBA, Pac-Man, or Ping Pong? It's hard to choose.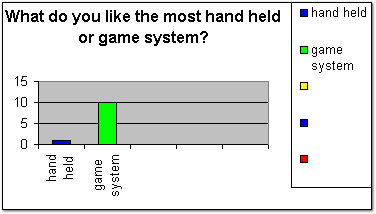 Game system was widely preferred to hand held, ten to one.
Writing The History of Tomorrow
It's nice to know that children today take an active interest in video game history — even if it's written out in a garish spinning font. After all, these students will build upon this knowledge to create the exciting, fantastic, and bloody world of tomorrow. Teach them well, my friends, and let them lead the way.

The inexorable rotation of history cannot be stopped.