Monday, December 29th, 2008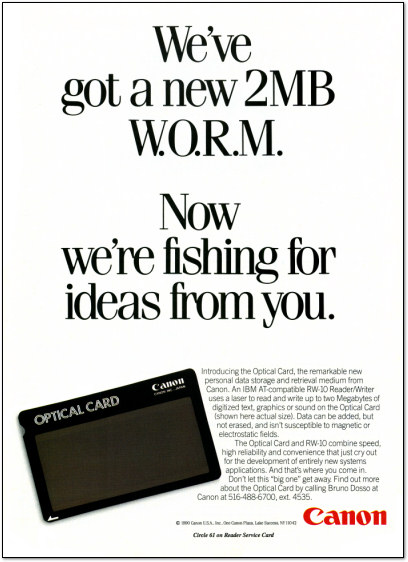 Ah yes; a worm pun.
Around the turn of the 1990s, "WORM" (Write Once Read Many) became a common computer industry buzz-word for a new mass-storage concept. Numerous companies released their own WORM drives that used proprietary forms of optical media, most of which were incompatible with other WORM drives. Seen here is such an attempt: a curious "Optical Card" from Canon that obviously didn't achieve widespread usage. According to the ad, it stored two megabytes of data on an optical layer that could be written once and never changed — much like a CD-R, but without the spinning disc.
Cursory Google searches reveal that the Canon Optical Card eventually saw limited trials as an identification card, either for travelers or medical information. Whether it's still in use today is unknown to me.
[ From BYTE Magazine — October 1990 ]
Discussion topic of the week: Do you recall using any strange computer storage media that didn't become a standard? (i.e. Bernoulli, magneto-optical, WORM, VHS, tape, cassette, Jaz, etc.) Tell us about the most exotic computer storage media you've used.
If you use this image on your site, please support "Retro Scan of the Week" by giving us obvious credit for the original scan and entry. Thanks.