December 15th, 2008 by
Benj Edwards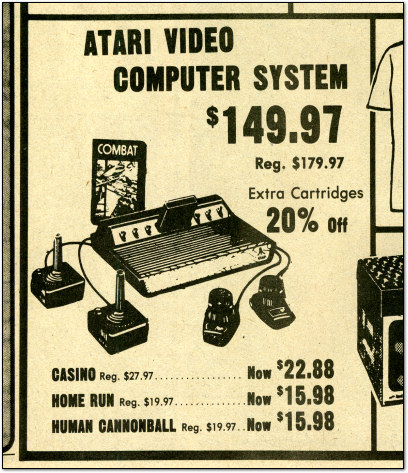 Click to see the 2600 ad in context.
Now here's something you don't see every day: a vintage video game ad from a newspaper. The subject in this case is the Atari 2600, and it appears in a "Howard BRANDiscount" advertisement from 1981. It's especially amusing to see the Atari 2600 marketed in this particular context, peddled among such diverse items as spray paint, pocket t-shirts, picture frames, and disposable diapers (click on the image above to see what I mean).
Remember my grandmother's cedar chest I talked about in September? Well, this is from the same chest, from a set of newspapers that my grandmother saved. I scanned many things from those papers, so you'll probably be seeing more examples of vintage newsprint ads in the future.
[ From The Oak Ridger — Wednesday, January 21st, 1981 ]
Discussion topic of the week: What do you think this ad says about the state of the video game industry in 1981?
If you use this image on your site, please support "Retro Scan of the Week" by giving us obvious credit for the original scan and entry. Thanks.