September 1st, 2008 by
Benj Edwards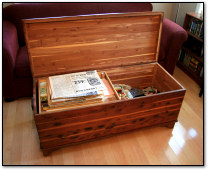 A few years ago, I brought home a large old cedar chest that had once belonged to my grandmother. It had languished, mostly forgotten, in my parents' basement since my grandmother's death in 1992. Upon cracking it open, I was instantly overwhelmed by the stale funk of old paper. My wife, sensitive to allergies, had to leave the room.
Among the greeting cards, family quilts, and my grandfather's WWII uniform, I found the source of the smell: a large stack of vintage newspapers that my grandmother treasured. Some of the papers were fascinating windows to America's past — chronicling John Glenn in space, the first landing on the moon, and the coronation of Queen Elizabeth II. Others dealt with less meaningful issues to me, such as unusually heavy winter weather or local events of eastern Tennessee.
Seeing an opportunity for Retro Scan of the Week, I combed through the newspapers looking for interesting material that I could share. The example you see below is the oldest VC&G-relevant ad I could find (I found others that I'll post later). It's a 1954 advertisement for a Westinghouse television set sold by "Don Cherry Tire Company."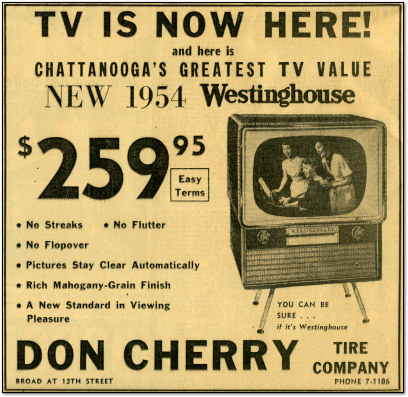 Chattanooga's Greatest TV Value
The headline, while amazing to us today, is somewhat self-explanatory: in 1954, television was coming into many American households for the first time. We're witnessing, in print, the birth of an essential component of the personal computer and video game revolution — the affordable home TV set. Ironically, the small (likely 12-15″) black and white TV you see above sold for about $2,125.64 in 2008 dollars. Remember that the next time you plop down two grand for a new 42″ plasma.
Interestingly, I found a color ad for the same TV seen above on another site. And another here.
[ From The Chattanooga Times – April 12th, 1954 ]
Discussion topic of the week: Tell us about your family TV set as a kid: when did your family get it, how big was it, and did you use it with home computers or video games?
If you use this image on your site, please support "Retro Scan of the Week" by giving us obvious credit for the original scan and entry. Thanks.