December 22nd, 2008 by
Benj Edwards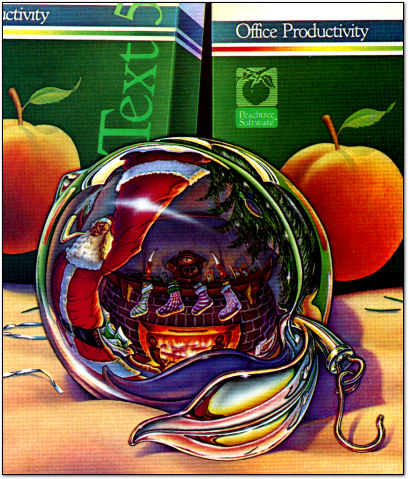 Click above to see the full advertisement
Of all the Christmas-themed vintage computer ads I've seen, this 25 year-old specimen stands out for its rich, colorful illustration as one of my favorites. The item for sale in this case is PeachText 5000, an otherwise-boring productivity application (from a modern perspective, anyway). But hey; at least they hired a good illustrator.
By the way, I'd like to wish everybody out there a Merry Christmas / Happy Holidays from VC&G. While being relatively lazy for the next week, I'm going to take this opportunity to do some serious video game playin'. I hope you get the chance to do the same. Mother 3, here I come!
[ From Personal Computing — November 1983 ]
Discussion topic of the week: It's Santa time. If you could magically (and freely) have any one item for your classic computer or video game collection, what would it be?
If you use this image on your site, please support "Retro Scan of the Week" by giving us obvious credit for the original scan and entry. Thanks.