December 21st, 2008 by
Benj Edwards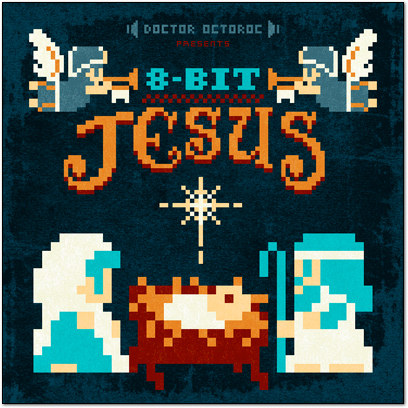 Just yesterday, chiptune artist Doctor Octoroc released a full MP3 album of NES-inspired Christmas songs called 8-Bit Jesus. It's nothing less than a chiptune tour de force, brilliantly re-imagining familiar Christmas songs like Silent Night, Joy to the World, and Rudolph the Red-Nosed Reindeer in the style of classic music from NES titles like Castlevania, Mega Man, Kid Icarus, and more.
Each track feels like it was pulled straight from an authentic NES cart; the haunting Kraid, Rest Ye Mother Brain delivers Christmas in the depths of Zebes, cleverly mixing God Rest Ye, Merry Gentlemen with one of Metroid's classic tunes.
Download the full album in MP3 format here. Or, if you donate $15 to Octoroc, he'll even send you a physical copy on CD.
One warning though: aside from the last two tracks, this album is not a relaxing, laid-back listen — most of these action-packed songs will make you feel like you're living in a frantic NES game (in other words, it's not quite grandma material). But for those who grew up receiving the latest NES game for Christmas, this collection brings back warm and fuzzy feelings that perfectly channel the spirit of the Yuletide.