Monday, July 27th, 2015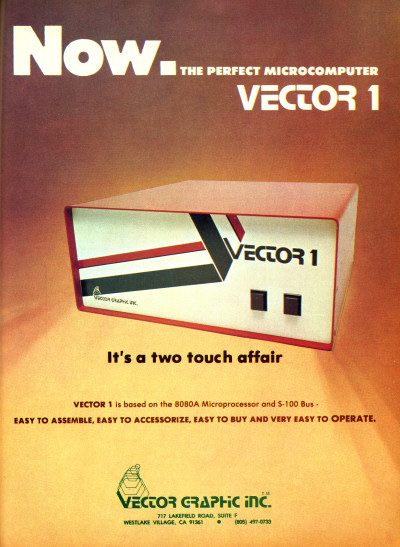 NOW AVAILABLE IN RUST
The Vector 1 (1977) was the first complete computer system sold by Vector Graphic, Inc., a California-based firm founded by Lore Harp (now McGovern), Carole Ely, and Bob Harp in August 1976.
The Vector 1 included an Intel 8080A or Zilog Z80 CPU, and it utilized the S-100 bus introduced by the Altair 8800. In an unusual nod to aesthetics, the Vector 1 shipped in two case color options: green or "rust," which was Vector's name for orange. It retailed for for $849 fully assembled (about $3,288 today when adjusted for inflation) or $619 as a kit.
It just so happens that I wrote an article about the history of Vector Graphic for FastCompany recently. You may enjoy it.
[ From Byte Magazine, February 1977, p.61]
Discussion Topic of the Week: Have you ever owned an S-100 based computer? Tell us about it.