July 20th, 2015 by
Benj Edwards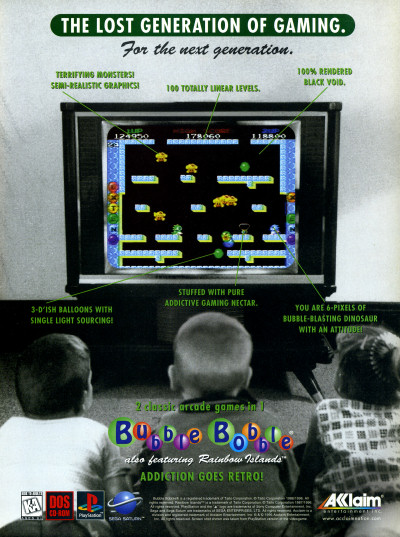 "100% Rendered Black Void" — I like the humor in this ad
In the mid-1990s, much to my delight, game publishers began remaking and re-releasing classic games of the 1970s and 1980s in collections on Mac, PC, and consoles. You remember — I'm talking about titles such as Microsoft Arcade (1993), Atari 2600 Action Pack (1995), the Namco Museum series (1995-1998), Arcade Classic No. 1: Asteroids / Missile Command (1995), Williams Arcade's Greatest Hits (1996). Even Super Mario All-Stars (1993) counts to some extent.
That happened to be around the same time I started collecting old video game and computer systems, roughly in 1993, so I was happy that the industry seemed to be rediscovering these "forgotten" classics.
The awkwardly titled Bubble Bubble Also Featuring Rainbow Islands falls into the same category, being a re-release of the arcade version of Bubble Bobble and its sequel Rainbow Islands on PlayStation 1 and MS-DOS.
[ From GamePro, October 1996, p.5]
Discussion Topic of the Week: In your opinion, what are some of the best executed game retro remakes and re-releases?