Monday, September 7th, 2015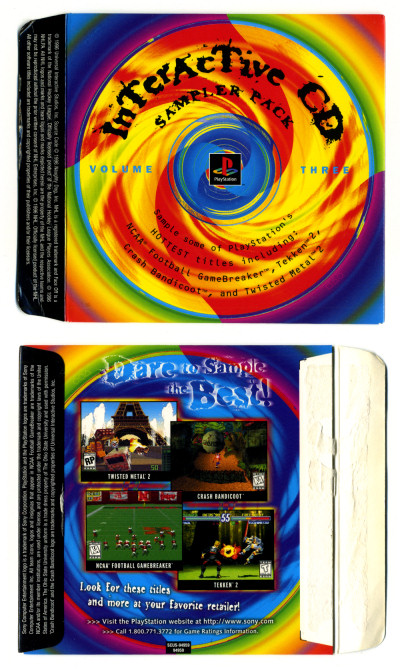 That is one intense swirl, man
Twenty years ago this week, Sony released the PlayStation in the United States — on 9/9/95, in fact.
The first time I remember seeing a PlayStation in person was a demo unit at my local Blockbuster video rental store. At first they had a single kiosk playing Battle Arena Toshinden. A few months later, they upgraded to a new kiosk with a trio of PlayStations arranged in an outwardly-facing triangle formation (if that makes any sense), with each running a different playable demo. I think that two of the three games were Battle Arena Toshinden and Twisted Metal. The third escapes me.
I rented a complete PlayStation system from that Blockbuster not long after it came out, along with two games: Loaded and Twisted Metal. I had read in a positive review in EGM that Loaded incorporated Gauntlet-like elements — overall, I was not too impressed with its gritty atmosphere or gameplay. But I did enjoy putting the Loaded CD in my computer's CD-ROM drive finding that it had a compatible file system on it, and that I could take a peek at the game's file structure. (Although that was irrelevant to gameplay, it raised the system's cool factor in my young tinkerer mind.)
Twisted Metal was a blast. I loved that game. I remember playing as Hammerhead (the monster truck) and running over everybody repeatedly. There is fun in digital mayhem.
In 1996, my brother's best friend bought a PlayStation and Twisted Metal 2 (released Oct 1996), and he brought it over to our house to play with us a few times. We loved it. After that, we knew we had to have one. In my mind, Twisted Metal 2 was the system's killer app — until Symphony of the Night came out, of course.
(I also rented a Nintendo 64 from Blockbuster in 1996, but I didn't buy one of those until summer 1997. Speaking of renting systems, I also rented a Virtual Boy from Blockbuster in 1995. I write all this down for my benefit as much as yours, so I can try to keep all this history straight.)
So after asking kindly to our parents, my brother and I got our PlayStation as a joint Christmas present in 1996. I was 15; my brother was 20. Having gone through prior console phases with the Atari 2600 (and 800, which we treated like a console), NES, TG-16, Super NES, and Jaguar, we felt like we were growing up along with the video game industry.
The scan you see above is the front and back of the sleeve of the sampler CD that came packed in with our new PS1 in 1996 (titled "Interactive CD Sampler Pack Volume Three"). I would have scanned the disc as well, but I seem to have separated it from this sleeve — maybe I put it in a jewel case long ago. I know I still have it somewhere.
[ From PlayStation Interactive CD Sampler Pack – Volume 3, ca. 1996]
Discussion Topic of the Week: When did you get your first PlayStation 1? What were your favorite games for it?