January 3rd, 2011 by
Benj Edwards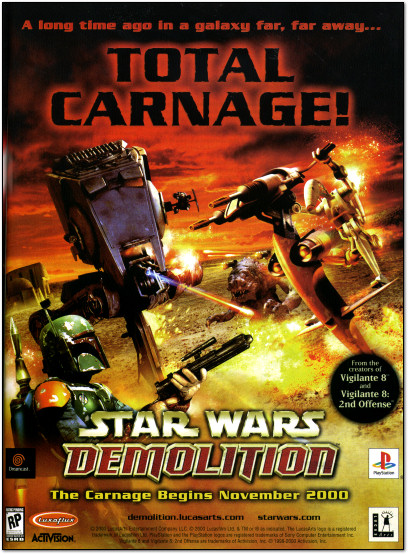 I don't remember this from the films.
Despite the fact that I scanned this ad from a magazine that I religiously pored over some 10 years ago, I have no memory of Star Wars Demolition (PSX and Dreamcast) whatsoever. It appears to be a vehicular combat game (ala Twisted Metal) with a Star Wars license slapped onto it. When I came across this ad earlier today, my first reaction was: "Man, that's bizarre." And it is.
Has anyone out there played it?
[ From Electronic Gaming Monthly, November 2000, p.47 ]
Discussion Topic of the Week: What's your favorite vehicular/car combat game of all time?