January 10th, 2011 by
Benj Edwards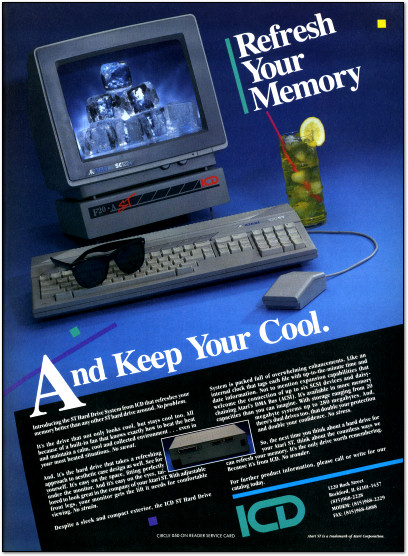 "Refresh Your Memory. And Keep Your Cool."
I recently ran across this ad for the ICD FA-ST Atari ST hard drive system in a 1988 issue of STart magazine that my wife's uncle gave me. He was quite an ST fan himself back in the day, and I was the lucky recipient of his ST collection last year.
According to an ICD catalog I have, the 20 megabyte model of this HD system (the FA20ST, seen here) retailed for US $699.95 in 1988 ($1,294.60 in 2010 dollars). The highest end model( FA52ST), which included two 50 megabyte drives, sold for $1649.95 (or $3,051.68 in 2010 dollars).
Those steep prices (common for all hard disks at the time), along with the small market size of Atari 16-bit owners in the US, made drives such as these quite rare. I've never seen one in the wild.
[ From STart, Summer 1988, p.9 ]
Discussion Topic of the Week: Do you own hard drive systems for any of your vintage, non-IBM PC compatible computers? Tell us about them.