January 13th, 2014 by
Benj Edwards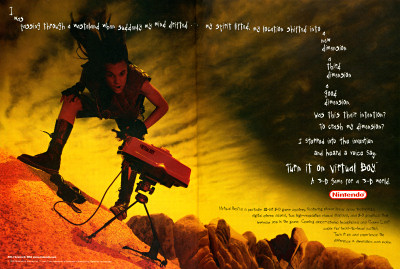 Virtual Boy: The #1 video game console on Mars.
When the Virtual Boy first launched in 1995, I rented the console (yep, the whole console) and a few games from my local Blockbuster store. Prior to that time, I don't remember Blockbuster offering any other systems for rent; I think it was a joint effort with Nintendo to get the novel machine into people's hands to try it out. (Later, I also rented a Nintendo 64 and a PlayStation from Blockbuster. But I digress.)
In fact, here are some early digital photos of that Virtual Boy rental, courtesy of my Snappy Video Snapshot. The first, dated 8/29/95, shows one of my cats sleeping in the plastic hard case the Virtual Boy arrived in when rented from Blockbuster. The second shows the Virtual Boy sitting alone on a stool in my room, and the third (dated 8/30/1995) shows my friend playing the Virtual Boy.

The Virtual Boy was an interesting experience — not exactly mind-blowing, but neat. Its display was all red, all the time, but with stereoscopic 3D. I remember that it seemed expensive (MSRP of $179.99, which is $275.26 today when adjusted for inflation), and I remember thinking that if it only cost less, it could be successful.
But as we now know, the Virtual Boy failed to take off. Nintendo killed it the same year it launched in Japan, and the company pulled the plug in the US the following year. At that time I bought a Virtual Boy new in the box on clearance at Toys'R'Us for $30. I still have it; in fact it's sitting next to me as I write this. Wario Land ranks among my favorite games for the system, and I always wished that this odd 3D console had lived long enough to receive a proper Super Mario Bros. title.
Why did the Virtual Boy fail? I wrote about some of the reasons in this 2009 article on Game Console Design Mistakes for Technologizer. I also briefly analyzed the Virtual Boy for my History of Stereoscopic 3D Gaming slideshow for PC World in 2011.
In some ways, it's a shame that the system died so early, but in absolute business terms, its early demise made perfect sense. The Virtual Boy was an odd machine without broad appeal — one of Nintendo's rare flops — but it makes for a heck of a video game collector's item today as a result.
[ From Computer Gaming World, September 1995, p.8-9]
Discussion Topic of the Week: Have you ever played the Virtual Boy? What's your favorite game for the system?
—
See Also: Virtual Boy Vortex (RSOTW, 2012)
See Also: The History of Stereoscopic 3D Gaming (PC World, 2011)