April 1st, 2013 by
Benj Edwards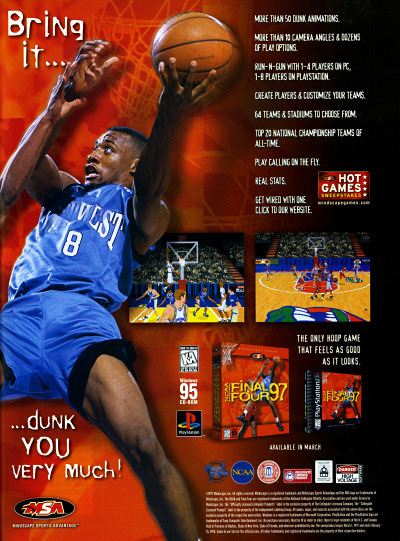 It's that time of year again…
I'm not a big fan of sports, and I'm not a big fan of sports games (Blades of Steel for the NES is probably my favorite — off the top of my head). But having grown up in the heart of ACC basketball country surrounded by great and once-great teams (UNC, Duke, NCSU, Wake Forest, etc.), I have a soft spot for the ACC and NCAA college basketball tournaments. I tend to watch a couple games a year.
So I can't tell you much about NCAA Basketball Final Four '97, because I've never played it. The closest I've come was NBA Live '97 for the SNES, and that was pretty fun for a basketball game.
[ From GamePro, April 1997, p.35 ]
Discussion Topic of the Week: What's your favorite basketball video game of all time?