Wednesday, November 30th, 2005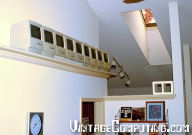 While I'm working on some more in-depth articles for VC&G, I thought I'd show you guys something you might find slightly amusing. The house I live in has a small shelf built into the wall, high up in a vaulted ceiling area. For years I've wanted to put some cool computer stuff up there, but my old roommate didn't like the idea. Then the other day a friend of mine suggested it again, and I seized the opportunity. I lined up most of my compact Macs up on the shelf, so now they're proudly on display — if you tilt your neck up, anyway (Click on the picture above for a bigger image of the shelf). This also freed up a bit of shelf space which I can now devote to new computer acquisitions.
Pictured on the shelf (from left to right) are a Mac Classic II, a Mac Classic, a Mac SE, a Mac SE/30, a Mac SE FDHD, and four Mac Pluses. Two of the Macs have tape over the disk drive slots because I had them in the attic and didn't want fiberglass dust to get in there. Not pictured: a Mac Color Classic that wouldn't quite fit, and a Mac SE, a 128k, and a few more Pluses that are in off-site storage. Luckily, I have lots of room on the shelf to add more.